Photo credit: Indy Eleven/Matt Schlotzhauer
He floated around Carroll Stadium last Saturday afternoon, popping in on tailgaters, schmoozing with the enlistees in the Brickyard Battalion, rubbing elbows with fans in the stands and spending time in a suite or two.
And for all his efforts what happened? His Indy Eleven won its semifinal game in The Championship over FC Edmonton, 1-0, to advance to Sunday night's title game.
"I definitely lost my voice, it's been very painful," Ersal Ozdemir, the owner of Indy Eleven, told NASL.com. "We screamed and we yelled and had a good time. It was all for a good reason."
He said some of the more than 9,000 fans recognized him, some did not. What is recognized, however, is that Ozdemir has made a commitment to support his three-year-old team in its first foray into the NASL's postseason in pursuit of the Soccer Bowl Trophy.
The team's motto is "The World's Game, Indiana's Team," and Ozdemir, a native of Turkey, has brought the same zeal to the soccer field as he has employed to became a successful and influential real-estate developer in Indianapolis and around Indiana.
"What I like about our team is that it is not one built around one person, it's built around an idea," he said. "Spirit and fight until the final whistle. As long as we do that whatever the outcome is at least we follow that idea."
Indy owner Ersal Ozdemir with the Spring Season Trophy. Photo credit: Indy Eleven/Matt Schlotzhauer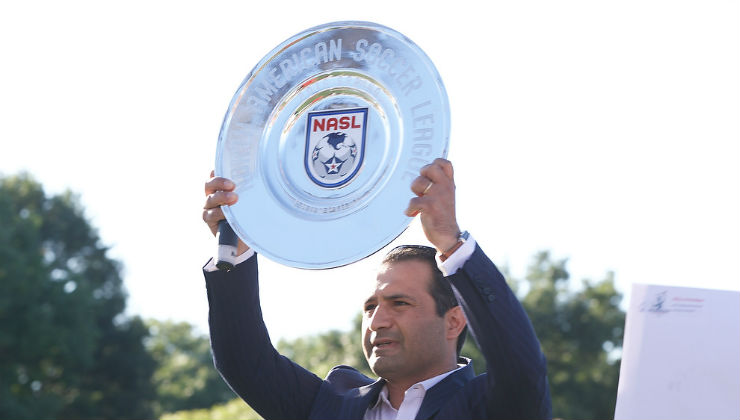 After struggling last year, Ozdemir named Tim Hankinson as the Eleven's coach last December. Hankinson went about building a strong roster, obtaining a slew of veterans (such as Colin Falvey, Nemanja Vukovic, Justin Braun, Sinisa Ubiparipovic, and Nicki Paterson) to the team with several players who have Indiana roots (such as Dylan Mares).
"All businesses have certain things in common," Ozdemir said. "You have to have good people to do well and a good organization all the way around. There are a lot of similar pieces and basic principles. There are a lot of similarities starting a business and a team, and challenges. The difference is that this is a retail public event. You might be an owner on paper, but it's really the people's team. What's important is not what I think in this business because it's the public's team. Our mission is to play and win championships for the fans. There's a very public pride factor. We want to do well and represent the city and state with character players. It's not just about winning, it has a lot to do with art as well. Just because you do everything right doesn't mean you're going to win. Some of it is art and some luck."
Ozdemir said he is especially proud of the players' efforts against Tampa Bay on Oct. 19, which was a critical game for the Rowdies. Indy came away with a 3-2 victory with a mostly makeshift lineup. The game also included what became the NASL Goal of the Year, which was scored by Duke Lacroix, a substitute in the contest.
"Our reserves beat Tampa Bay in an important game for them," Ozdemir said. "We got the best goal of the year from that game. It made me proud of our players, it's what I like about our team – the spirit and fight until the final whistle. As long as do that whatever the outcome is at least we do that."
For Indy and its owner there is one final hurdle: dethroning the defending champion New York Cosmos, who are seeking a consecutive championship and the club's third in four years, in The Championship Final.
"It's an amazing feeling to be in the Final," Ozdemir said. "We had a goal initially to win a championship in five years. Here we are in our third year with a chance already. It's already come a long way, more than expected. Success increases morale in the front office, the community, the fan base. When we have the highest attendance and loyal supporters you want to win for them. We really do play and give what our fans deserve. It's important to show them appreciation, not by word but by putting on a great game in front of them.
"It's hard to express and hard to compare. I don't know what I was expecting. The whole organization has worked so hard to get to where we are. I'm happy for them to see success and the morale boost. I'm proud of the team, the organization and the city for all the support."