2011 Review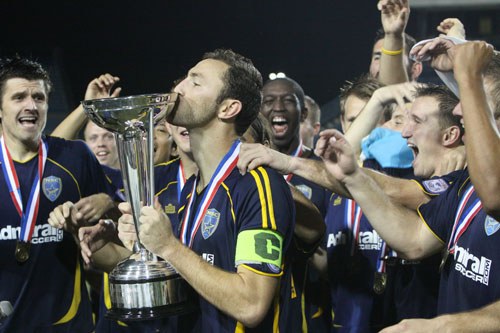 The NSC Minnesota Stars capped a successful inaugural NASL season in 2011 by being crowned champions after defeating the Fort Lauderdale Strikers in the NASL Championship Series. The Carolina RailHawks won the NASL regular season title and were led by Golden Ball winner Etienne Barbara, and the team's coach Martin Rennie. The RailHawks won 10 consecutive league games between late April and early July.
The Puerto Rico Islanders led by the club's coach Colin Clarke successfully defended its CFU Caribbean Club Championship and finished second in the regular season. FC Tampa Bay qualified for the postseason with a third-place finish.
FC Edmonton also reached the postseason with the Alberta based club competing at a high level all season long with a roster that contained several homegrown youngsters.
The Atlanta Silverbacks returned to competitive action after a two-year hiatus, while the San Antonio Scorpions prepared for their league debut in 2012. The NASL also announced the addition of a new club in Ottawa, Ontario.

2011 AWARD WINNERS
NASL Golden Ball - Etienne Barbara, Carolina RailHawks
Barbara scored 20 goals over the course of the season to lead the RailHawks and the NASL and was voted by the media to earn the league's MVP.
NASL Golden Boot - Etienne Barbara, Carolina RailHawks
Barbara tallied 20 goals to earn the honor of the league's top scorer.
NASL Golden Glove - Evan Bush, Montreal Impact
Bush kept nine shutouts and posted a 0.76 goals against average. He was named as the league's top goalkeeper.
NASL Fair Play Award - FC Tampa Bay

Awarded to the team with the best discipline record in the
NASL regular season, based on fewest red and yellow cards.
NASL Regular Season Champions - Carolina RailHawks

Awarded to the team finishing first in the standings during
the NASL regular season.
NASL Champions - NSC Minnesota Stars

Awarded to the team that wins the NASL Playoffs Final
Round series on aggregate goals.