Photo credit: Minnesota United
After being named Minnesota's Mr. Soccer in 2012 for his play in high school, Ismaila Jome headed west. He played for three years at UC Santa Barbara, earning Big West Freshman of the Year and All-Big West First Team honors during his first two years at the university.
His hometown club, though, was never far from his heart and mind.
Jome trained with Minnesota United for several years before being signed ahead of the 2016 season, feeling it was the right time to turn professional after his junior year of college. Last Saturday marked the debut of a player with burgeoning talent as he earned his first minutes in NASL play.
He didn't disappoint.
Jome came on in the 63rd minute and he scored only seven minutes later. Receiving a pass from Danny Cruz, he sent his shot through the legs of Fort Lauderdale Strikers goalkeeper Diego Restrepo to cap a 3-1 victory for the Loons.
"It was an unbelievable feeling – it was like a dream," Jome told NASL.com. "I had been working and training as hard as I could. It was a great feeling to have that culminate in getting my first competitive minutes and getting a goal."
Jome played for Minnesota in the club's friendlies, making a cameo appearance against Club León of Liga MX and then starting against England's Bournemouth. His play against the English side possibly opened the door for some quality minutes against the Strikers.
"I didn't know I was going to play," Jome said. "I didn't think I was, but I was ready if I did get the opportunity. I started in the friendly against Bournemouth and I did pretty well. He (Coach Carl Craig) told me after the game I did really well and that would open up the possibility of me playing in the position as a left midfielder. I didn't know whether he meant in the next game or further down the line. I'm thankful I got the opportunity."
Jome, 21, was born in Banjul, Gambia, but he grew up in the Minneapolis suburb of Brooklyn Center. His home debut and first goal won't soon be forgotten.
Jome's teammates celebrate with him after his first goal. Photo credit: Minnesota United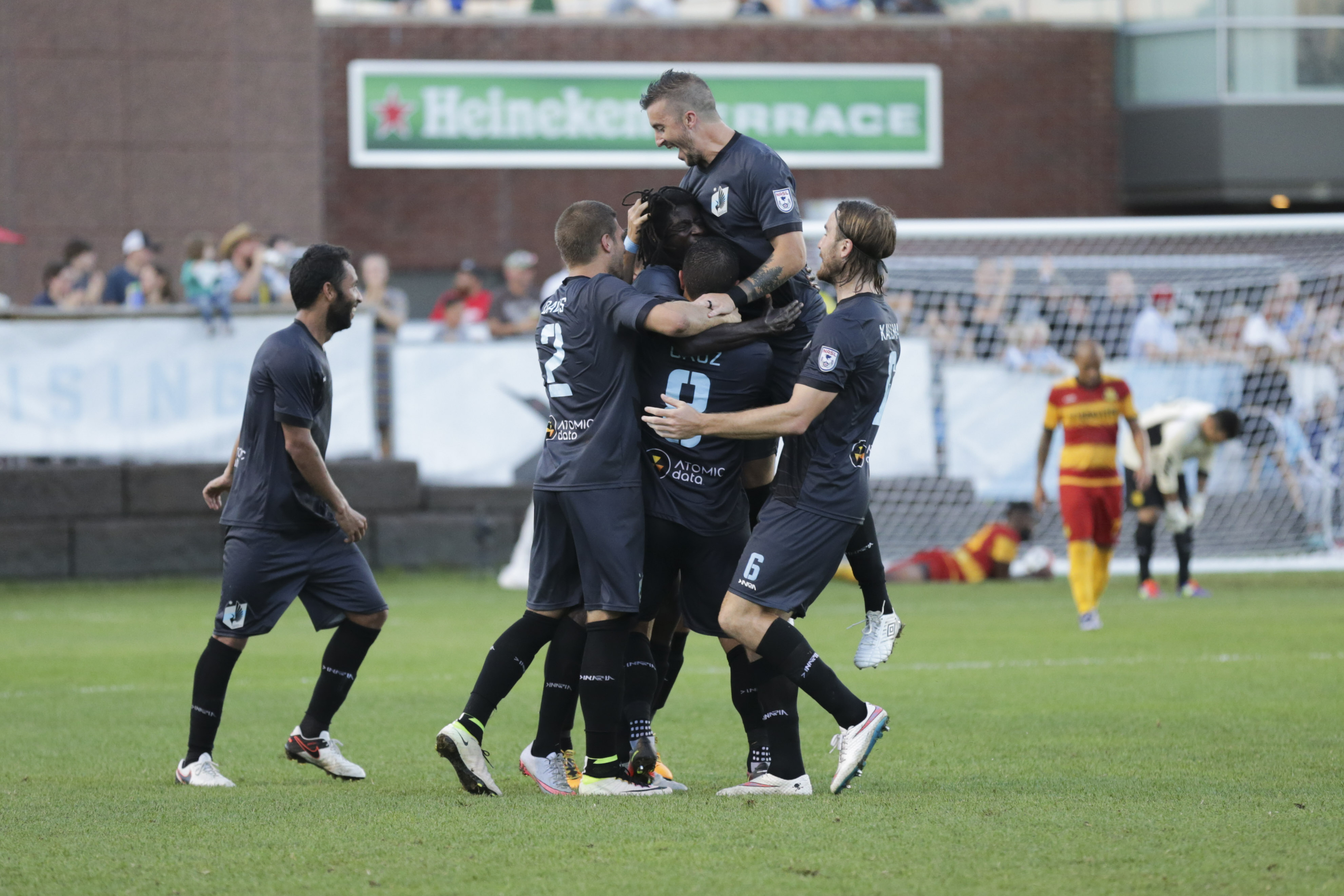 "It made it a lot more special in front of the home fans – I had a lot of friends in the crowd and a lot of people that knew me growing up in Minnesota," he said. "All the fans were really supportive and after the game it was a huge congratulation."
While Jome scored his first goal, long term he could be used more in a defensive role at left back.
"He's wanting me to develop more as a left back, which I played a little bit in the past," Jome said, referring to Craig. "Playing it at the next level is a harder task. We'll see what he has planned for the future."
Whether it's in the attack or as a defender, Jome has plenty of players to glean knowledge from – at forward Christian Ramirez or as a fullback from Justin Davis and Kevin Venegas.
"They've helped a lot," he said. "They've been guys to look forward to definitely – Christian scoring goals and JD being a great defender and Viva being a great defender and a good outlet going forward. They've been a great help to look at and see what they do, their habits, and learn from them. They've given me advice along the way."
Jome shined when he finally got his chance in the Loons' 15th game of the year. Now, he's ready to get back to the grind and hope it warrants more opportunities.
"Just continuing to work hard – have the same mentality of hard work and staying positive that I've had the whole time," he said. "If I do get more minutes, I just have to keep capitalizing on them and help the team."