Michael joined the Rowdies in the offseason and his father and uncle once played in the NASL
Photo credit: Matt May/Tampa Bay Rowdies
Michael Nanchoff joined the Tampa Bay Rowdies this offseason. The Nanchoff name, though, isn't new to the NASL.
George (Michael's father) and Louis (Michael's uncle) both played in the NASL. George played for the Fort Lauderdale Strikers and Atlanta Chiefs, while Louis played for the Caribous of Colorado and the Chiefs. Both had successful careers in the league in the late 70s, early 80s.
"It's cool," Michael told NASL.com. "It's an extra motivation factor because my dad, George, and uncle, Louie, were really successful in the league and I have a lot to live up to with the family name.
"For me it puts a smile on my face to play for a team that was in the exact same league as them, playing against the exact same teams as them, and the same exact rivalries. It's pretty neat for me."
Joining the NASL brings Michael's path in soccer even closer to that of his father and uncle's. Before turning professional, all three spent time at Akron University.
George and Louie Nanchoff at Akron. Photo credit: nasljerseys.com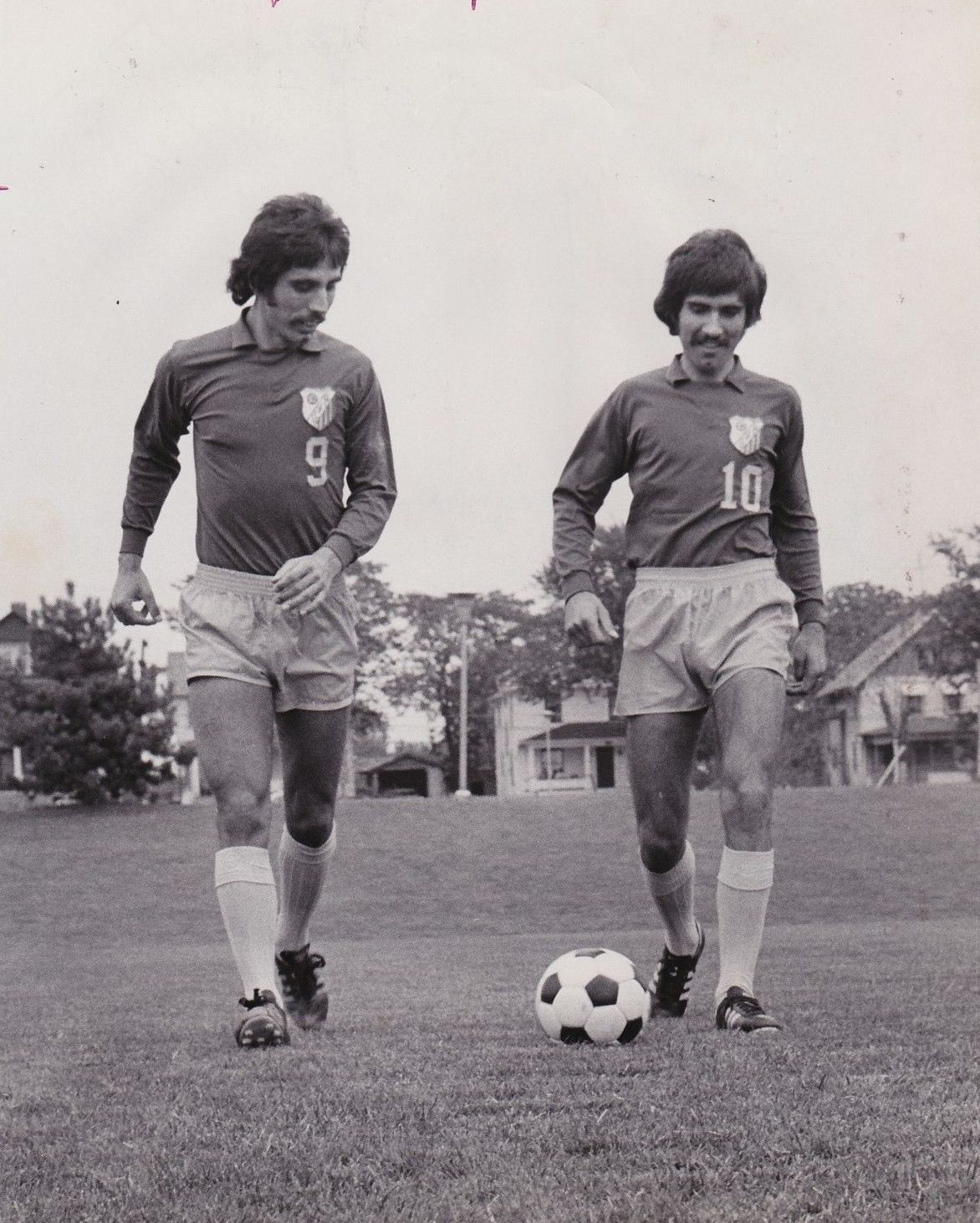 "They coached me growing up – my dad coached me all throughout the youth level – and when the opportunity presented itself to go to Akron I didn't hesitate for a second because I knew they laid some footsteps there and I had some really big shoes to fill," Michael said. "It was a motivation factor for me."
George gave his son advice before he joined the Rowdies and the NASL.
"The more and more I talked about it with my dad he said it's one heck of a storied history and a heck of a club to play for – do the right things, treat the players well – so it was the perfect opportunity," Michael said.
Entering his first season, Michael is excited for the competiveness he'll face when he steps into league play, saying "I have a handful of friends who have played in the NASL and they say it is one heck of a league." Michael, 27, has a previous history against the Rowdies and its coach, Stuart Campbell, though. He scored off the volley as Campbell was closing him down in a Lamar Hunt U.S. Open Cup match in 2013. The Rowdies lost to the Timbers, 2-0.
"I've heard through the grapevine that was one of the reasons he was interested in bringing me, but I haven't had the chance to stick it to him," he said.

Having won a national championship with Akron in 2010 and MLS Cup in 2015 with Portland, there is only one expectation heading into 2016.
"It's simple for me: I want to win championships," Michael said. "We have to go out and win games. I'm confident coming from a winning environment in Akron winning a national championship and with the Timbers winning MLS Cup.
"I can instill some of that into this team and there's a lot of good players. As long as we buy into it and we're all on the same page, we can expect good things."