Zea discusses the recent partnership with the NASL, innovation in soccer, and more
Under Armour and the NASL have partnered to produce the league's new official match ball. Under Armour has had a steady growth of recognition since jumping into soccer via sponsorships with players and teams around the world. The deal with the NASL is the first that Under Armour has forged with a soccer league.
Matthew Levine of NASL.com spoke to Under Armour Senior Director of Global Football Antonio Zea about the partnership with the league, innovation in soccer, and more.
Levine: What is the potential in having a partner with a league such as the NASL? Does it give Under Armour more visibility in the sport?
Zea: I think it's immensely important. Working with a league allows us to work with the most important people. It's not me who makes the shoes or the league staff, but the players. At the end of the day, it doesn't matter if I like what I make, it's if the players like the boots, the ball, the jerseys – all of those pieces.
I think it's important to have the platform like the league to work with players, to bring legitimacy, to bring understanding, to understand what problems they are having. The players make the league and the league is a fantastic platform to tell our stories together and to determine what the future of the game is. Often times you make these types of deals, you don't maximize them. I hope we can do that with the NASL.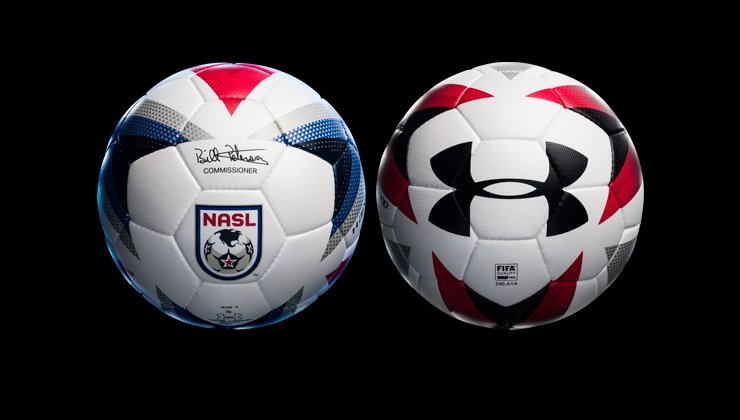 Levine: Under Armour is a new kid on the block in terms of soccer, so how does the company break into the sport? How do you change people's perceptions when they are used to Nike, Adidas, etc.?
Zea: A lot of people know our brand and that's the positive. We're not an unknown brand and a lot of people have experience with it in other products. We're in their minds and now it's a matter of telling our story in soccer and telling that we are legitimate and authentic.
We want to help players do their best. We want to help them slay their next giant, essentially. How do we arm them to overcome the biggest obstacles? That's a very specific mantra and it's about arming them with the tools they need to succeed. Yes, it's about emotion and about the glitz of the game, but at the end of the day it's about making a product that's the extension of you and allowing you to play at your best.
Levine: You worked at Adidas for a number of years, what has been the biggest difference between it and Under Armour?
Zea: Under Armour is a very fast-paced company. It has a startup, entrepreneurial mindset, which I love, because it allows us to explore different ideas and do stuff fast. We want to grow in the football market very quickly. We want to mean something to the player and in this environment and at Under Armour we can do that.
Twelve months ago we didn't have all of this [a range of products] at Under Armour. In 12 months from now you'll see even more and that will speed up exponentially. We're allowed to do that by our mentality and the way we work. We're very much about technology and innovation – and I live in that. Having an innovative mindset and really pushing to the limits is something we need to do.
The game, I don't want to say it's a traditional one, but there are a lot of things we can do in it. There's a lot that can change. We've been making shoes similar to the same way for a long time and that's only recently changed. What happens in other places in the tech industry and what can we learn to use it towards shoes? I think you'll see in the next few years in industry, and particularly from Under Armour, is an acceleration of football and what the game can be.
Levine: What kind of innovations are there still to make?
Zea: You can look at boots and say what's next, what hasn't been done yet? I think there is still a lot of space to innovate around the product in materials and understanding how players use the product and what problems they have. It gets really hot on artificial turf and no one has solved that problem for me or I need multiple shoes for different ground conditions.
I think there are solutions out there, it's just understanding what are the most pressing to the player and figuring out how to solve it. One thing we're focusing on is fit and feel. Players all over the world want the best fitting shoes and for us, from an innovation standpoint, we work to understand how we define fit for a football boot and how do we redefine it. How do we create the best-fitting football boot that fits everyone?
Levine: A big component of Under Armour's visibility in other sports has been customization. How do you use that aspect and add something different to the sport?
Zea: A lot of people want to make the product their own, to some degree. We have to allow you to do that. I expect someone not only to buy a disposable item because when you're done with it you throw it away or give it to a sibling. I want to create an ecosystem where someone can customize the product, make it more their own, and question the disposable aspect of it.
That's what the model is built on. Buying a shoe in the spring and one in the fall. How do I build a relationship with a player to make a product theirs? I like to say 'boots for me' – it's not a boot everyone would wear, but it's a boot for me. What are the elements that I can do to make it my own. Some people change laces or black their shoes out. What is that for the future and how can technology work with that? Technology is a huge part in all of this and what the industry is about.