American table tennis players broke through barriers when they went to China in 1971, a trip that was called Ping-Pong Diplomacy.
President Richard M. Nixon followed the bouncing ball to what was then called Red China in 1972, heralding an opening to a long-time adversary he had long vilified.
The window opened wider in 1976 when Mao Zedong, the man-god and chairman of China's Communist Party died, replaced by a soccer fan, Deng Xiaoping.
Then, when soccer's global ambassador, Pelé, decided to call the 1977 season with the Cosmos his last as a player, a trip to China for two games as part of the club's annual postseason tour was irresistible – to both the Chinese authorities, who were just opening their country to the world; and to Warner Communications, the company that owned the Cosmos and saw a vast, untapped market for its films, music, and video games.
After winning the NASL title in 1977, the Cosmos embarked on a whirlwind tour that took them to Venezuela, Japan, China, and India as Pelé said farewell in parts of the world that revered him, but had never seen him in person. The final bow came back home in a match against Pelé's former team, Santos of Brazil.
"We took a lot of people on the trip, it was a big entourage with [Warner Chairman] Steve Ross, and [the music impresarios] Ahmet and Nesuhi Ertegun," said one of the team's American defenders, Bob Smith, who made the trip. "It was like a big Cosmos family trip. I was really excited because no one had been invited to China at that time. They wanted to see Pelé. It was one country he had never been to. It was really cool.
"We traveled as this big group. It was like going on a trip with a bunch of your friends and seeing a beautiful, mysterious country."
The Cosmos were the first NASL club to make the trip to China. At the time, the game in the world's most populous country was years behind the rest of the world. Today, though its national team continues to underachieve, China's top professional league has garnered headlines for the big-spending ways of some of its clubs. The Cosmos returned to Asia last year as part of their preseason preparations and are being followed this year by the Fort Lauderdale Strikers, who will be accompanied by one of the team's part-owners, the former Brazilian star Ronaldo as they stoke soccer fever in China.
After two victories in Japan – "all the guys bought new cameras in Japan," the Cosmos' captain, Werner Roth, said – and the traveling party arrived in Peking (as Beijing was known then in the West) and were wined and dined at huge state banquets.
"We sat with the players at dinner and they were all so happy we were there," Roth said "They were so grateful and so impressed with the Cosmos and with Pelé, Franz [Beckenbauer] and Giorgio [Chinaglia]. They were in awe."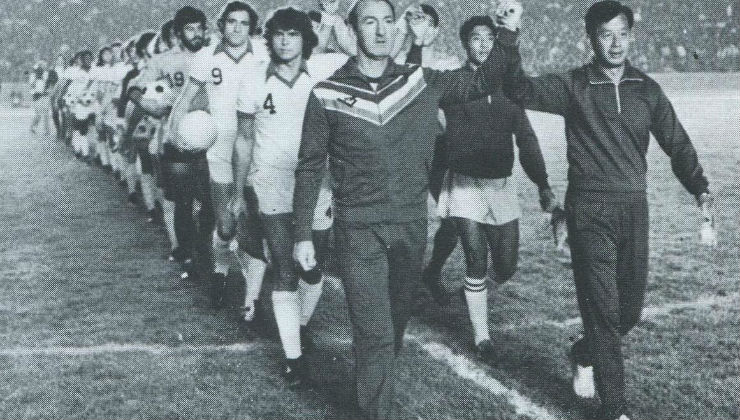 That feeling of awe, however, did not translate to action on the field in that first match against China's national team before 80,000 fans, which ended in a 1-1 draw.
"We underestimated their level of play," Roth said. "I remember Ahmet making a speech before the first match telling us to take it easy between the lines. But someone said we should not underestimate them, and sure enough we didn't touch the ball for the first five minutes. They were all over us physically and we got our egos handed back to us. We were somewhat embarrassed that we didn't present ourselves well on the field."
The physical nature of the games in China took a toll in the second match, a 2-1 loss in Shanghai, when Smith was forced out of the game with a shoulder injury.
"I got clipped making a run down the side, a player was tracking me from behind and clipped one of my feet and I got tripped up," Smith said. "I had to come off the field. And remember, that up until that point we were on all guided tours with Chinese officials taking us where they wanted us to go. Now, I was going to some medical place, being driven through back alleys and seeing the real China, stuff you wouldn't believe.
"So I get to this emergency room, none of the other guys came with me, at least I don't remember them coming with me. They cut off my shirt and wrapped me up and gave me some bad painkillers. I'll tell you, the drive to that place was not on the Steve Ross tour. The next day, I think the team went on a trip to the Great Wall. I didn't go, but took a walk outside our hotel with my camera. A guy would come up and stick his hand over the lens when I tried to take a picture. I'd be walking and there always seemed to be a car behind following me. School kids walked by and all stared at me because I stood out."
Smith, a New Jersey native who now runs an indoor academy, said that nothing pleased him more than playing soccer – especially with a collection of global stars.
"They were revered by me," he said. "I just never got used to walking into a locker room and seeing Pelé. I really liked the whole lifestyle, the camaraderie with a bunch of guys. I loved it. It's all I wanted to do. I want to play right now. I'm ready to go."
Smith was unable to complete the trip with his teammates after sustaining the injury and was "condemned" to fly back to the United States with Steve Ross and the Erteguns on the Concorde SST.
Roth, who now lives in the Los Angeles area and is dabbling in the film industry (he played the captain of a German team in the 1981 Warner Bros. film "Victory") to this day remains captivated by the experience.
"I was fascinated with China, by the politics, the culture and just the seas and seas of people who were all wearing the same costume, Mao jackets," Roth said. "It's one of the most interesting trips I took with the team, and there were a lot of them.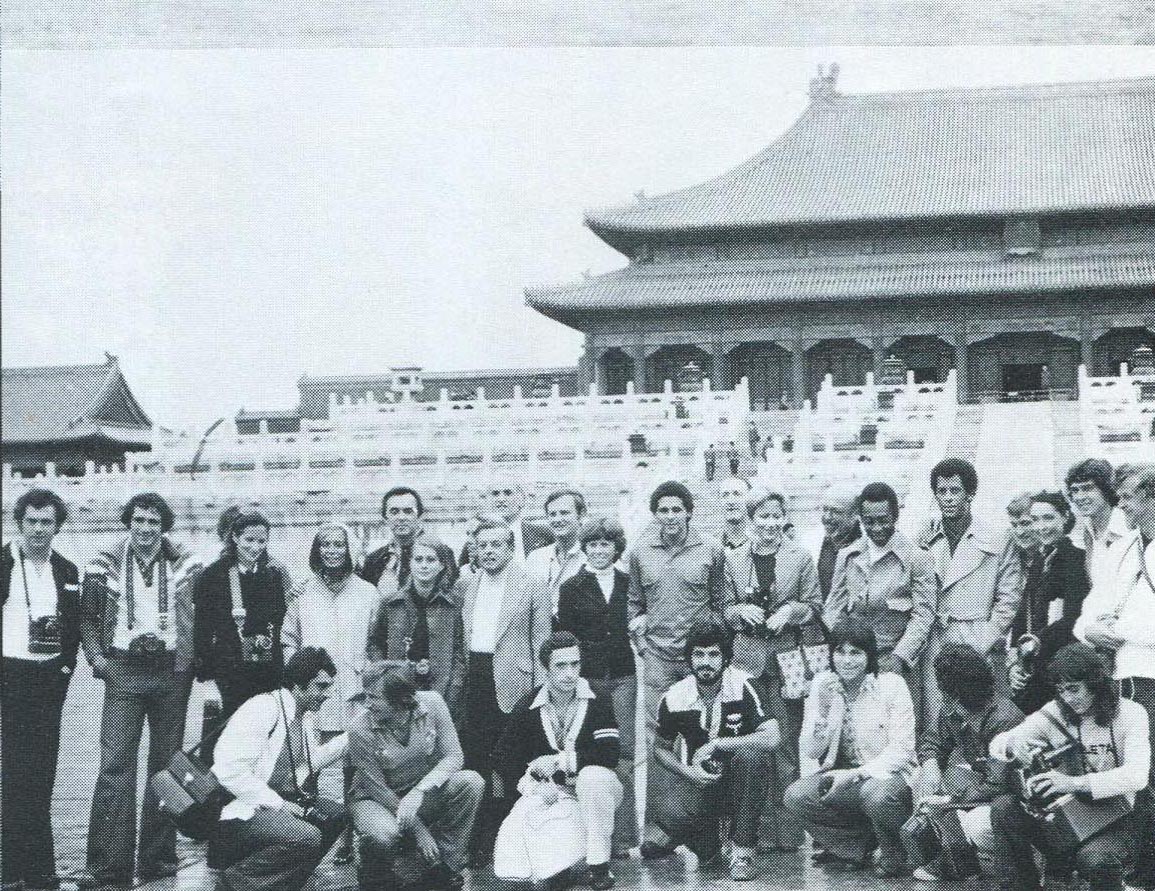 "The food was another story. During our first meal, Giorgio walked out, basically saying what the hell is this stuff? I think it was shark fin soup. He just walked out. The next meal we had Chinese tables and European tables. I mean this was 1977, the Chinese food is Chinese, not New York Chinese. Some of the stuff still moved when it was on the plate. The differences we encountered were some of the best parts to me."
After playing the two games in China in September, the Cosmos, the United States Soccer Federation and the National Committee on U.S.-China Relations quickly arranged for a team of top Chinese players to visit the U.S. for a couple of games. It culminated with a return match at Giants Stadium in East Rutherford, NJ, which ended in a 1-1 draw before more than 30,000 fans.
"They came to New York after having stopped in Dallas to play a game," Roth said. "Some of us, part of a delegation, went to meet them at the airport. Remember, they were kind of smallish players. They all came off the plane and they all had on these huge 10-gallon hats and cowboy boots given to them by the Dallas team. Their smiles were as big as the ocean. They were just in heaven. We took them to Windows on the World at the World Trade Center and most of them never saw anything like it. They just stood at the windows looking out at this shimmering city. They were speechless."