Christian Ramirez has developed into one of the dominant forwards in the NASL in his first two seasons at Minnesota United
Editors note: This story originally appeared on NASL.com on February 24 before the 2016 season. Christian Ramirez went on to win the league's Golden Boot with 18 goals, moving to second in the league's scoring chart with 50 goals. In 2017, Ramirez scored 14 goals in his debut MLS season.
In the final third of the soccer field, there are not many players you would want with the ball at his feet (or on his head) than Minnesota United's Christian Ramirez. In his first two seasons in the NASL, the Santa Ana, Calif., native has scored more than 30 goals, claiming the NASL Golden Boot award in 2014. He also leads the Loons in career goalscoring with 34 in all competitions.
But there is more driving him. The chance to win trophies is the top priority for Ramirez. The burning desire to keep proving himself after hearing so many doubters is never too far away.
Miguel Ibarra, The Recruiter
Ramirez, 24, has blossomed in his time in the Land of 10,000 Lakes. A major part of his success can be attributed to the relationship that developed with Miguel Ibarra.
It was the diminutive attacker, now playing at Liga MX's Club León, who was instrumental in Ramirez landing with the Loons.
"Somehow Miguel got my number," Ramirez told NASL.com. "He was talking to me about coming to Minnesota and living with him for 10 days to try to sign for the remainder of the year."
Without being prompted by Minnesota's coach at the time, Manny Lagos, Ibarra contacted Ramirez, who he had played with in California.
"It was kind of my own thing," Ibarra said. "I knew how well he played and I knew the chemistry we had already. It was just something that I thought would help the team out and thought it would be great if he came to Minnesota and played with us."
Ramirez's signing with Minnesota almost didn't come to fruition. He went back to California after being told United would like to sign him for 2014. But he weighed his options over that summer while considering another possibility.
"In the meantime I had talks with Sacramento Republic, so it was down to Minnesota and Sacramento," Ramirez said. "I was pushing for Minnesota because of Miguel – and he came out here that offseason and we played together for PSA Elite.
"[The offer] finally came and luckily a couple of days before my Sacramento offer was going to be pulled from the table. I took Miguel's word for it that it would be the right place for me."
Ramirez had been on United's radar long before signing with the club.
"I got invited to a Seattle Sounders invitational in Vegas and I really didn't catch on there," he said. "I had the Charlotte thing set up because they had been tracking me through my senior year, and Kevin Friedland, who is from Irvine, grew up in the same club as me [Strikers FC] and talked to my college coach about me. I was supposed to go out there [to Minnesota] after Charlotte.
"After the combine in Charlotte, Tom Engstrom, who was the GM at the time, knew what Kevin Friedland [a Minnesota assistant coach] was going to see in me, so he offered me a contract on the last day of the combine so I wouldn't go to Minnesota. I just jumped at the opportunity and Kevin Friedland respected it and told me to keep in touch and I did."
Throughout that 2013 season, Lagos tracked Ramirez's progress.
"We looked at Christian and saw his season in USL," Lagos said. "At the end of his season in Charlotte, he came out and trained with us for a week. We were aware a little bit of Christian out of college. It's kind of unique when you can follow a guy even if he's not on your team."
Coming Of Age
Ramirez's lone season in the USL was a breakout campaign. Joining the Charlotte Eagles out of Concordia University of the National Association of Intercollegiate Athletics (NAIA), Ramirez helped lead the side to the USL PRO Final.
Ramirez tallied eight goals during the regular season and added four in the playoffs, scoring in each round.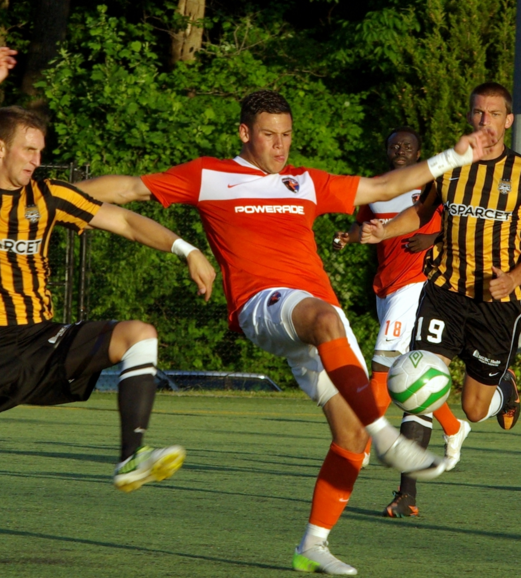 It was the matchup in the final, against Orlando City, that was a defining moment in his young career. In front of 20,886 spectators in Orlando, Fla., Ramirez and Dom Dwyer, who was on loan from Sporting KC, engaged in a personal duel in the wild scoring affair.
"That was the largest crowd I had played in front of," Ramirez said. "It gave me the mindset that it was what I wanted to do. I wanted to chase playing in front of big crowds at the highest level that I could. At the time, Orlando had announced they were going to MLS and they were the best side in the USL."
At the final whistle, Dwyer had scored four times, Ramirez twice, and Orlando City was crowned champion after winning, 7-4.
"The quality was there and the atmosphere was the most outrageous thing I had been a part of," Ramirez said. "To score twice in that environment assured me that I belong on that stage and I could hang in front of that many people."
Golden Boot Debut
Because of an injury, Ramirez's chance as the spearhead of Minnesota's attack was born. Pablo Campos, who has his own NASL Golden Boot Award, was injured during the club's preseason trip to England in 2014.
"It sucked that it took an injury to Pablo for me to get that look and you never wish an injury on anyone, especially an ACL which takes so long to recover," Ramirez said. "I was on the field when it happened. We had just gotten comfortable playing together."
Lagos noted that Campos and Ramirez would have been in line to partner in the Loons' attack over the course of the year.
"It was unfortunate that Pablo went down – I don't necessarily think they were competing for a spot, we felt like we could play different ways with both of them on the field," Lagos said.
Ramirez's first game got off to a rough start, but he eventually found his feet against the San Antonio Scorpions, the team that went on to win the NASL title in 2014.
"I felt nervous," Ramirez said. "Once the goal happened it took a lot of pressure off of me. Whether I had a good game or a bad game that was all people were going to talk about.
"It was a good start and it was even better because I heard how Minnesota and San Antonio were such rivals and hate each other. To be able to be a part of a win in San Antonio in the first game of my Minnesota career was really special."
The first goal of the year was the catalyst for Ramirez. He went on to score 19 more times, including a superb bicycle kick that won the Goal of the Year award.
"I think it's a credit to Christian and his professionalism coming into the team and being able to absorb the stresses that teams can have – whether it's individual or as a group," Lagos said.
Still a raw talent, Ramirez gained the trust of his teammates, carrying his confidence as he knocked in goal after goal for the Loons.
"I was the youngest guy on the field for the most part," he said. "The first time we got a PK I picked up the ball and I think it was Floyd Franks when someone tried to take the ball from me said 'No, he's got it.' After that, guys understood that I was going to be the one to put games away, to be on the end of balls to finish, and that was my role no matter my age. That's what I've grown into over the past two years."
Superheroes?
Watching Ibarra and Ramirez on the field during their time together, one would think they had been lifelong friends. The partnership proved fruitful for Minnesota with Ibarra rising to become the first NASL Modern Era player to reach the U.S. national team while also claiming the league's Golden Ball Award (MVP) in 2014, in addition to Ramirez's success.
"He takes a while to break out of his shell, but once he breaks out of his shell he's nonstop joking around so we got along quite well," Ramirez said. "He takes a while to open up, but he's annoying – a good annoying."
Their friendship, though, was one in which they initially exchanged few words, but a plethora of passes, when they both played for Orange County Blue Star.
"I had met him with Blue Star, but I didn't say a word to him," Ramirez said. "We just played."
Ibarra added: "He knew how I would play, I knew he was a good player, and we understood each other well on the field. It was a soccer kind of thing at the beginning. When we were on the field, we were like best friends. Off the field, we didn't really talk to each other."
Ramirez, in fact, was the defensive midfielder playing behind Ibarra.
"When I first saw him play he was a defensive mid and I thought he was really good," Ibarra said. "He could spread the ball and looked for the right person."
So imagine Ibarra's surprise when he first encountered Ramirez playing up top.
"Next thing I hear is that he turned into a forward and he's banging goals in," he said. "I was kind of surprised and shocked at that."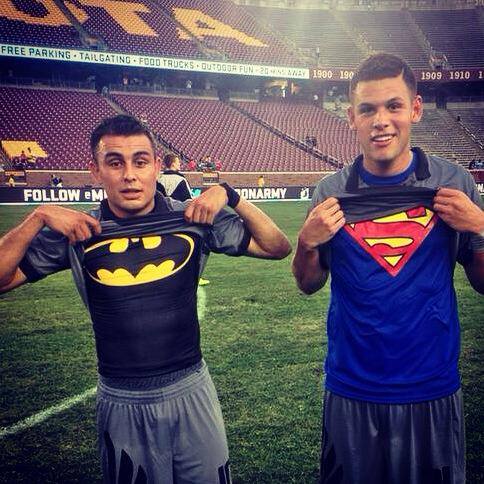 Reunited in Minnesota, they would later be tagged with superhero nicknames by Bruce McGuire, the co-host of the no longer running du-Nord Fútbol Podcast alongside Wes Burdine.
Ramirez and Ibarra embraced their new alter egos.
"We were at the store and saw a Batman and a Superman shirt," Ramirez said. "We thought it'd be funny to put it on and show the fans at the end of the game. It was at TCF Bank Stadium when we played Ottawa. We showed the Dark Clouds and they went crazy. We pay attention to what they say whether it is good or bad, so it was a pretty funny moment seeing their reaction."
Ibarra, though, did not mind that Ramirez was called Superman. Laughing when asked, then pausing, Ibarra said: "No [I wasn't upset]. At the beginning we would argue who is better. We would always mess around, but always stuck to our games."
Finding Jurgen
Last summer, at a Nike store at South Coast Plaza in Costa Mesa, Calif., Ramirez had a chance meeting. One of his friends recognized Jurgen Klinsmann, the coach of the U.S, men's national team, as he was trying to keep a low profile while shopping.
Ramirez initially thought it was a joke when his pal said that Klinsmann wanted a word.
"I think he was a little upset that my friend caught his disguise, but we talked and exchanged email and phone numbers," Ramirez said. "He wanted to see what I was doing in the offseason and asked me to send my offseason workout. He's a good guy and if I ever get to play for him it would be fantastic. I just try to control what I can control."
Since Ibarra's experience with the national team while with Minnesota, Ramirez is often mentioned as the next NASL player to wear the U.S. colors, possibly along with Ibarra.
"We're always hoping that in the future we team up again at the national team or a club team, but we would love that," Ibarra said.
Ramirez knows it is all about making the most of any opportunity.
"That always comes up because you hear it so much that the U.S. is missing a forward or someone that can score," Ramirez said. "I could be called up and not score a goal in the camp I was called up to and there goes that opportunity. If I'm given one I have to be ready, fit, and take the opportunity. It only takes one opportunity to make your mark or know you weren't ready. I feel I can play at that level and hopefully one day I will.
"If country calls, it will be a blessing."
Lagos, who coached Ramirez the past two seasons before moving into the front office as the Loons' sporting director, believes Ramirez has what it takes to get to the international level.
"There's no doubt about it that Christian should be looked on as one of the better American forwards in the country," he said. "It's really up to him to continue to develop and grow and good things should happen if he does."
Chip On His Shoulder
While Ramirez has found success as a pro, he had a much tougher introduction to the collegiate ranks. At UC Santa Barbara, he scored few goals: He started only two games and scored one goal in 17 appearances over two years.
"I just don't think I fit into the style at Santa Barbara – the style of play, the coach's system – for one reason or another," Ramirez said.
He added, "I had family issues both in Colombia and stateside, so I wanted to move back closer to home."
Transferring from a Division I school to Concordia University in Irvine, Calif., Ramirez needed to rebuild his confidence, said the assistant coach, Cheyne Gordon.
"He just needed to get back to playing consistently and get his confidence back up, so that's where he was at when he came here with us," Gordon said.
Ramirez said that "once I found the love for the game and started playing again, everything else fell into place." The goals followed. He tallied 44 goals over his two seasons, earning NAIA First Team All-American in 2012 with 23 goals and six assists and also was named the Golden State Athletic Conference Player of the Year.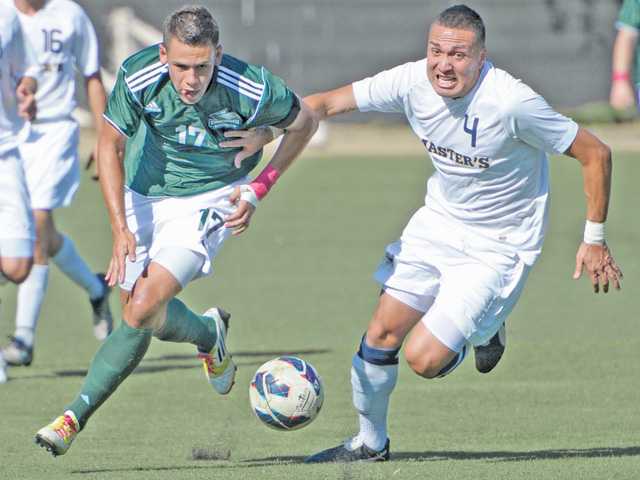 "He was probably the best goalscorer that the program has ever had," Gordon said. "He, as a forward, is the type of player that makes everything better behind him. He was a guy that we looked to to score goals, and he always did. He always came through."
During his time at Concordia, Gordon saw the makings of a professional player in Ramirez.
"Even when he was in college he acted as if he was a pro," Gordon said. "He could have scored three goals in a game and he'd ask how his movement was and how he could improve. When we had to take a plane flight he was watching game film. He was watching what he ate. Everything he did was already a professional mindset."
It was his tough time at Santa Barbara that Gordon believes shaped the player Ramirez has become.
"Whenever you're a decorated youth player and you go to college and you're humbled, you're going to carry that feeling with you everywhere you go," he said. "Christian learned that at Santa Barbara and he never wanted to go through it again. I think that's where the chip came from, but what a great life lesson to take from that.
"He was determined to make it."
Big Expectations
After winning the Golden Boot award, Ramirez entered the 2015 season with high expectations, which the opposition was hell bent on thwarting.
"He accepts that he's going to be a marked man and that's a compliment – it's part of the territory," said Carl Craig, who took over from Lagos as the Loons' coach. "The maturity and experience is putting him in a good place right now."
Ramirez landed on the bench after scoring only one goal in the Spring Season. He knew he had to wait, once more, for his opportunity.
"My dad would call me and tell me that I was going to get an opportunity to start one of these games and to show them what they've been missing and that I still have what they saw last season," Ramirez said. "That's what I did in the Fall Season." He scored 11 times over 20 games and added another in The Championship Semifinals.
Ramirez believes he can avoid a slow start in 2016 by being more aggressive and assertive out of the box. His supporting cast has changed with the additions of the 2015 Golden Boot Award winner Stefano Pinho (from Fort Lauderdale), 2015 Best XI selection Lance Laing (from FC Edmonton), plus the veteran forwards Danny Cruz and Ben Speas. While it could certainly help relieve some of the pressure of being the main goalscorer, Craig doesn't necessarily believe Ramirez sees it that way.
"If he's having a quieter moment in front of goal, we certainly have the firepower around him to achieve what we're trying to achieve: winning a championship," Craig said. "I don't know that forwards think of relieving stress. It's their job, it's what they are paid for regardless of who is around them."
Craig added: "We're expecting even more from him this season. Having the two seasons he's had, and the number of goals so far, we're looking for an increased presence on the field and even more goals. It all stems from his attitude as a player and a man with his desire to succeed."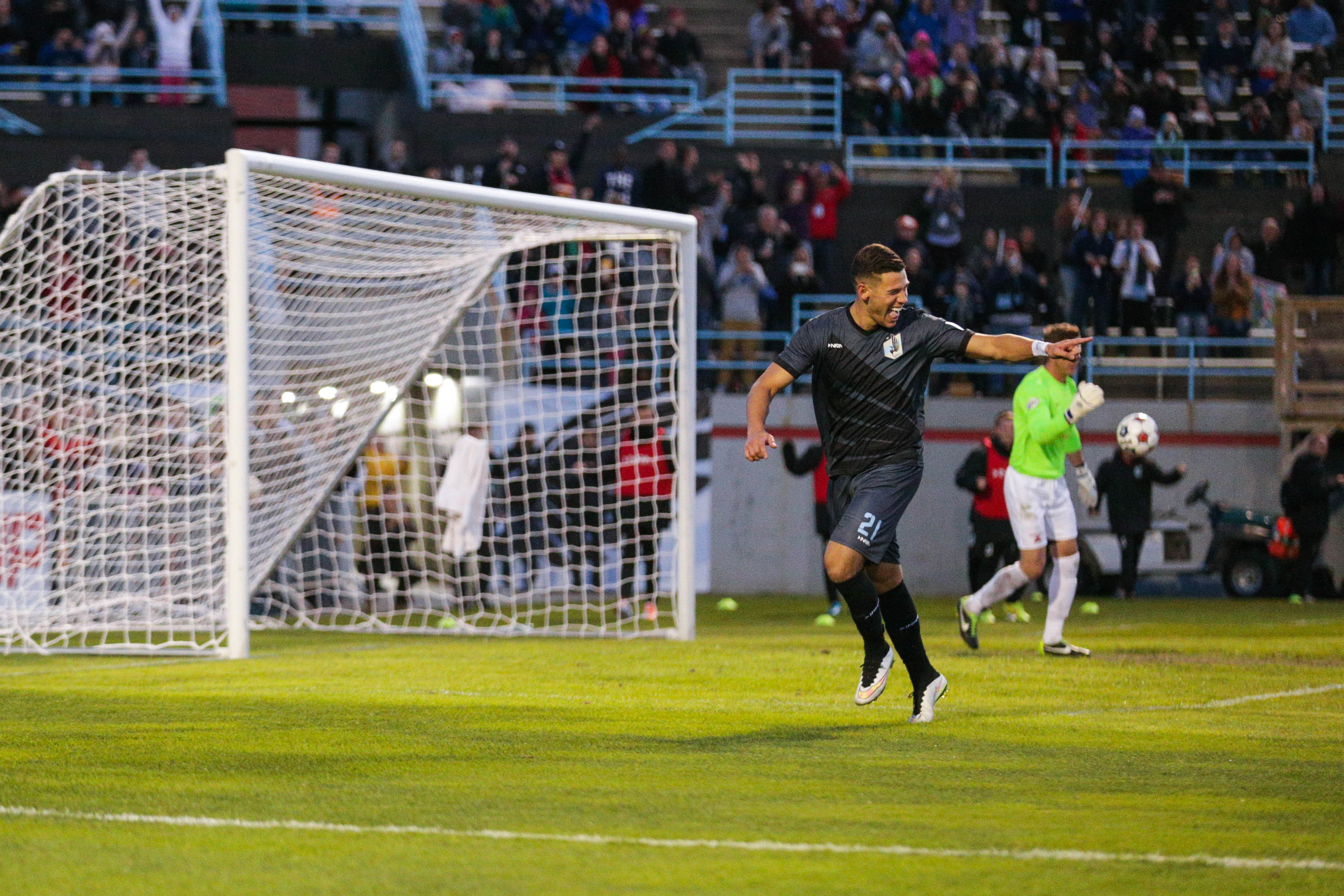 Ramirez is certain he and Pinho can co-exist, although the team has recently been playing with one forward. Minnesota's coaches are trying to come up with a scheme to keep both players on the field at the same time.
"I feel that I can be the go-to striker and that's what I bring to the team," Ramirez said. "You see in Pinho's stats he ended with seven assists and I ended with six. We both show that we're unselfish.
"Goals aren't only what's going to end up mattering. He could end up with 20 goals and I could get 20 assists and I'd be perfectly happy."
The objective now, after reaching two semifinals and one final in his career, is to finally claim the league championship.
"It's frustrating to lose in the semis twice and to lose in a final, but I feel blessed that in my first three years I've been able to play in two semis and a final and raise the Spring Season trophy," Ramirez said. "Not many people can say that in their first three years, but I am missing a championship. I do want to be on top of the platform raising a trophy, that's what drives us [as players].
"All the individual awards are cool, but the team award is what drives me."
Earning more individual honors, reaching the national team, or earning league silverware could all be accomplished, potentially, in 2016. Make no mistake, though, the chip on Superman's shoulder isn't going away.
"I've learned to play with a chip on my shoulder my whole life," he said. "I was always told I'm not athletic enough, fast enough, strong enough, or that I don't have all the right tools to make it. It's always good to play with that extra motivation.
"I'm confident not to worry about people talking, but use it as extra motivation to silence them in the end when they are wrong."