Wynalda discusses his new radio show, the Strikers' involvement in the Florida Cup, and more
After a successful professional career in Germany and the U.S., as well as over 100 appearances for the U.S. men's national team, Eric Wynalda has carved out a prominent role for himself in the broadcasting world. Currently appearing on Fox Sports' coverage of the Bundesliga, Wynalda can also be heard on his new Sirius XM show Wynalda Talks Football.
The former U.S. international has also tried his hand at coaching, leading amateur side Cal FC on a remarkable run in the U.S. Open Cup and taking the helm of the Atlanta Silverbacks in 2012 and 2014.
Matthew Levine of NASL.com spoke to Wynalda about his radio show, the Florida Cup, and the growth of the NASL.
Levine: What's been the difference between working on TV and hosting your own radio show?
Wynalda: One of the hardest things to do in television is get your point across in 15-20 seconds. There's always a lot unsaid and unanswered, but that's due to the time constraints of television. So radio is something that was an accident really. I was asked to give it a shot, and we came up with a clever name. It surprises me how many people have received it well and are listening.
It's one of those outlets that allow me to expound on topics without being cut off by a producer or have to lock it into those seconds, which you have to do on television. We can dive into some real issues and get opinions not just from the public but from me as well. I didn't expect to have so much fun doing it. It's two hours and it goes by so fast.
Levine: Covering the Bundesliga games on television for Fox, what can you say about FC Schalke 04 and Bayer 04 Leverkusen – both participants in the Florida Cup – and the importance of the Fort Lauderdale Strikers playing that level of competition?
Wynalda: In 1990, I was with the U.S. national team and Schalke came to Florida and they were doing their training camp pretty much right down the road from where the U.S. national team was doing theirs. We got to play against them – just a scrimmage game – to get those guys a game and for us to play against a German team.
The head coach was Peter Neururer. After the game was over, he enquired about maybe bringing me to Schalke. I was an idiot and declined. I said I want to play in the first division, not the second division. Schalke was one of the biggest clubs in Germany so it showed my ignorance. I said I was hoping for a first-division offer, so I made a joke if you ever bring the team to the first division I'd love to play, which is so cocky for a 21-year-old kid.
He stayed true to that. He brought Schalke up and got fired and took Saarbrucken up and he called me in 1992 and asked me if I was interested in joining the Bundesliga. I played 20 minutes in that game and got the opportunity of a lifetime.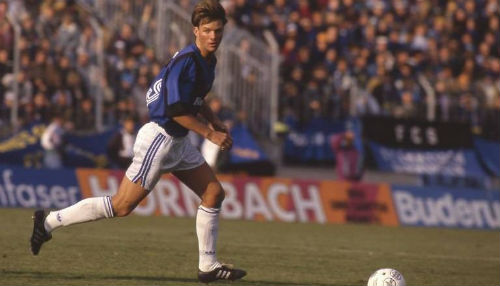 Schalke and Leverkusen, both of those clubs, have a fantastic history. They have both managed to stay in the Bundesliga for a long time and wonderful players on both teams. It'll be great to have them back on U.S. soil.
You can't get a better lineup to prepare, so it's smart for Fort Lauderdale. Watching the transition through several coaches in Fort Lauderdale, they are a team looking to turn the corner. If some of their forwards play the way I did who knows if they end up in Germany.
Levine: Jaime Chavez, a player you brought into the professional ranks, recently signed for Miami FC after two successful seasons in Atlanta. How closely have you watched his growth and do you think there are a lot of players like him just waiting to be found and added to a team in the NASL?
Wynalda: Jaime is a guy who probably wouldn't have gotten a chance elsewhere because of his age. I never looked at it that way. There are good players and bad players, not old players and young players, and he falls into the good category. It was a struggle to get him to walk away from the life he had in California – with a job and playing soccer for fun on Sundays. I convinced him that he could be a pro.
Once he made that decision, I think it was like two weeks into the season and he walked over and said, 'Hey boss, can I talk to you? You were right.' With a few years under his belt now, I think he'll be great in Miami. If he has anyone that can give him the ball the right way, he's going to score. That's the one thing he will always do.
There are more out there than you think. I'm not saying there are more Jaime Chavez's out there, but a lot of players who have fallen in the cracks and have been overlooked for whatever reason. A lot of people do the wrong thing. They don't watch the player, but the level of the game. They make assumptions on the player based on the level of the game. That's probably the biggest mistake most scouts make because it's unfair to a talented player.
Levine: What have you seen from the growth and the quality of play since you got involved with the league to where it is now?
Wynalda: The soccer is pretty good and there is a lot of talent that I've seen. I'm hoping, as the league grows, the presentation gets a little better. I love the fact that it's real fans - I mean real fans - that are there because they love their team. Slow growth is always a cool thing to watch, especially what I saw in Atlanta. We had a small stadium, but they were dedicated people and some of them were still learning the game for the first time and the way we presented it allowed them to be bigger fans when they left the stadium.
I enjoyed it. There are so many components to soccer in this country that could get better, but the NASL does a lot of things right.
The NASL will grow up the day they win the Open Cup. That was always my goal as a coach to prepare my team to be ready to beat anybody, not just the team in front of us, but to be better than we thought we might ever be. I just want so desperately for an NASL team to win the Lamar Hunt U.S. Open Cup. It'll be a game changer.
Levine: Christian Ramirez is a name that usually comes up, but do you see any player getting a chance soon for the U.S. national team?
Wynalda: I think a lot of people in their interest in Christian were introduced to Miguel Ibarra, who isn't bad either. I've lived some of the frustration for some of these guys. There is a false perception that just because you're playing in the NASL, you're not talented enough to play in Major League Soccer. That's a complete farce. That's probably one of the biggest misconceptions I've come across since my involvement in the NASL. On a lot of occasions players in the NASL are overlooked by Major League Soccer coaches, and I blame that on ignorance as well. I don't think they give the NASL enough credit and respect at times.
I remember the Ibarra situation. He was one of the Cal FC originals and I really wanted him to play with my amateur team. He went into the draft and ultimately got cut. Luckily there was a guy, Amos Magee, with a keen eye for talent and originally from Minnesota, on that staff and didn't give up on him and he ended up there. If I could've taken any player, and I tried every week – knew I had no shot – but I told Manny Lagos I'd trade for that kid. Obviously he never fired the rope on that.
That's the way it works sometimes. Christian Ramirez is a fantastic forward. Do I think he should be on the national team? Why not? Tell me a better forward right now than Christian Ramirez and the fact that a player of his quality hasn't been given a chance is too bad.
Levine: Do you see your future continuing on in the broadcast field or do you have that itch to get back into coaching?
Wynalda: I would love to. My decision to back away from management was family driven. I wanted to be there for my kids. Maybe when I have a few more gray hairs and my kids are a little bit older, I'll definitely jump back in. I miss it every day. I have friends who are coaches, GMs, sporting directors, and I talk to them on a daily basis about players, about building teams, and I've become the free consultant. I do love it and at some point I hope I get an opportunity to jump back in. I'll be ready if that day comes.