The midfielder suffered through a lengthy injury layoff, but continues to find the form that made him a U.S. youth prospect
Danny Szetela has become an important member of the New York Cosmos since his arrival in 2013, overcoming odds that threatened to end his career at a young age. Szetela's story is the first long-form article of an occasional series that will appear on NASL.com.
New York Cosmos goalkeeper Jimmy Maurer may have the most appropriate description of his teammate, Danny Szetela.
"He's such a fighter – that's the word I'll always use to describe Danny," Maurer told NASL. "He just battles for everything, he gives us so much on the field."
That fight was critical in the Cosmos' opening tally in an eventual 3-2 win over Ottawa Fury FC on Nov. 15 at Shuart Stadium in Hempstead, NY. Szetela put his head in harm's way to nod the ball toward Gastón Cellerino, who eventually fought through several Fury FC defenders before scoring the first of his three goals in The Championship Final.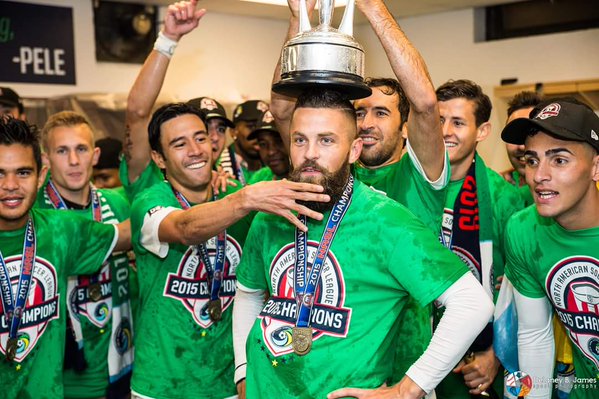 "The first goal we scored in the final was completely from him," Maurer said. "He goes in strong to a tackle where the other guy was trying to smash the ball 80 yards and the next ball the guy kicks it up towards his head and he takes a cleat in the face, but still heads the ball to Gastón and Gastón does the rest. The work he puts in the midfield, you can't replace it."
In his three seasons in New York, Szetela has been in the heart of the Cosmos' midfield for its two championships. The victory, though, isn't Szetela winning trophies, but that he is able to be on the field, let alone playing at a high level.
Injury Woes Begin
Szetela began his professional career while still a teenager, and was first drafted by MLS's Columbus Crew. He then headed overseas to Racing Santander of Spain's La Liga in 2007 before being loaned to Brescia in Italy's Serie B.
The midfielder eventually returned stateside, landing with D.C. United. That is, however, when Szetela's career started to get off track. A knee injury required an operation in February 2010, and he was released by the MLS side a month later.
"At the end of the day soccer is a business, and they had to do what was right for the team," Szetela said. "For them, at the time, it was the best thing because they needed somebody who could play. They released me, and I trained with Philly [MLS's Philadelphia Union] a little bit."
Szetela wouldn't suit up for Philadelphia or any club until 2013. In total, Szetela spent three and a half years out of the game.
"The knee wasn't getting better so that's when I got the second surgery and then the third surgery," he said.
The third operation was a procedure that implanted a meniscus into his right knee.
Back To New Jersey
Humbled.
That's how Icon FC head coach Greg Bajek describes Szetela in 2013 at the beginning of his comeback.
"When you're a soccer player and you get injured like that, I think he was humbled," Bajek said. "He didn't want to take it for granted, when you do you can get injured again."
In the comfort of New Jersey, Szetela began the long road back. In Montville, near his home, he trained with Icon FC, an amateur side that was in the Garden State Soccer League of the USASA, considered to be the fifth-tier of the game in this country. Szetela had played for Bajek previously as a 14-year-old in a Premier Development League (PDL) match.
"Whenever he felt like it [he'd train], we never pushed him," Bajek said. "We just wanted him to get better each day, each practice.
"During that time, as he was progressing, he needed some games in. We signed him as an amateur player. We didn't have to sign him as a professional because he hadn't played for a few years."
The return was slow. It was a test. How would the knee hold up after so much time out? Not only physical, Szetela had to display his mental fitness.
"It helped with the mental stage of being out on the field after the surgery – knowing that it was going to be OK playing," Szetela said. "I think when players get injured sometimes it can be difficult to recover in the same way."
Bajek added: "In the beginning he really didn't get in tackles, but that's the thing when you're injured that long. There was no rush, so that was the perfect scenario for him. He wanted to see how his leg would feel. He didn't want to go through another surgery or a long period of a break. He was a young kid still at that point."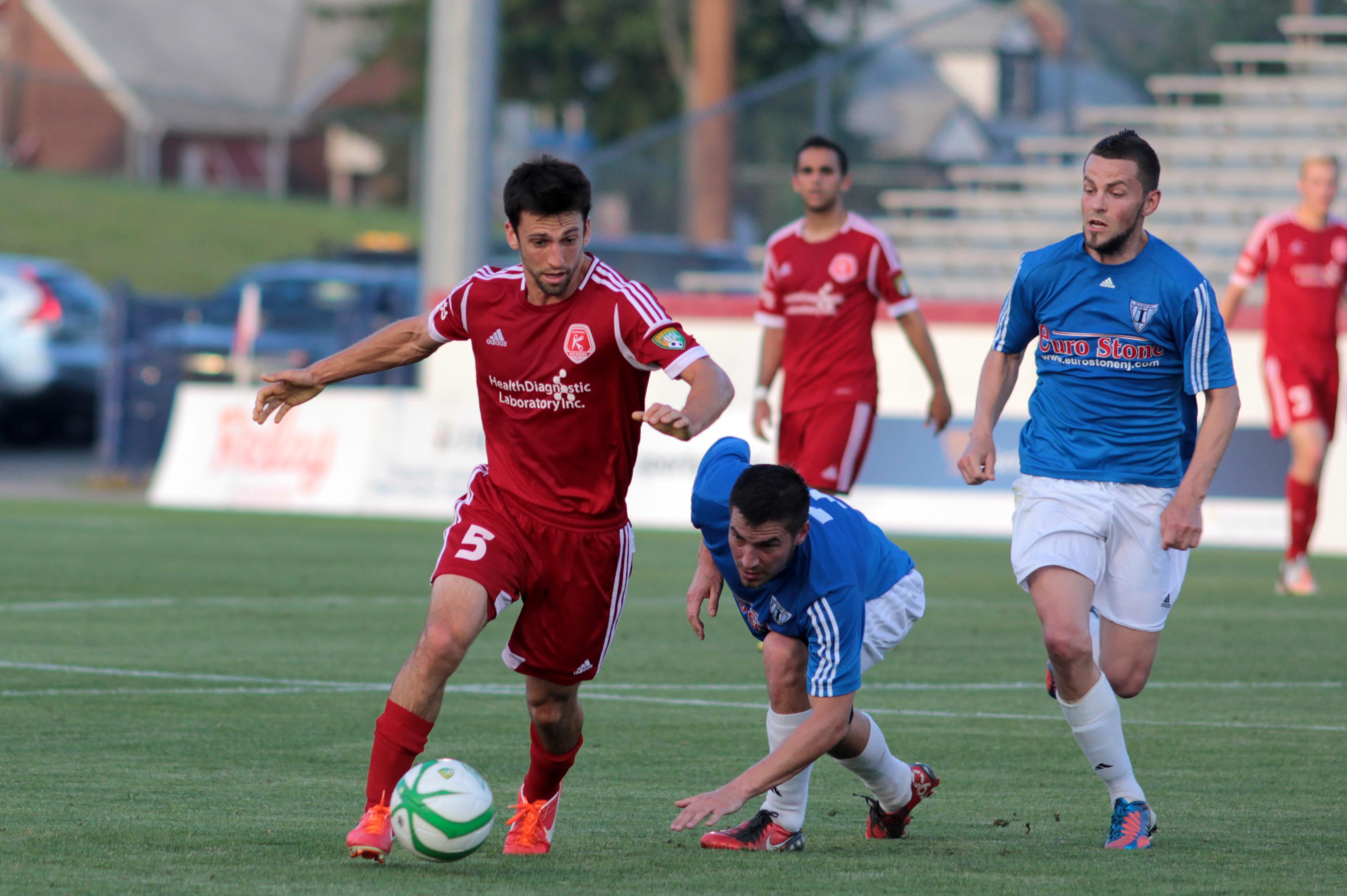 In the 2013 U.S. Open Cup, Szetela helped Icon FC defeat the Brooklyn Italians, 4-1, in the tournament's opening round, but he couldn't prevent the side bowing out in the next round by the same score line against the Richmond Kickers. Szetela also played in a handful of games in the Garden State Soccer League.
His play with Icon FC ultimately led to a training stint with the Cosmos, who he would go on to sign with for the club's reboot season in the NASL.
Off The Field Troubles
Szetela's comeback attempt, however, could have stalled at any stage. He said there was not one moment where he felt he hit rock bottom. It was an incident off the field, though, that had the potential to limit his chances to return to the game.
In 2011, Szetela was arrested. In an altercation at a bar, he jumped into a fight to help his brother who was being assaulted. Dealing with an injury and the potential to be labeled a troublemaker, Szetela's window of opportunity seemed to be closing.
"It definitely crossed my mind," he said. "When all these incidents happened – getting injured, the thing with my brother, arrested – it's part of life, but I don't regret any of it."
The charges were later dropped and Szetela continued on the path of a return, using the naysayers as fuel.
"With the injury I thought teams wouldn't want me anymore," Szetela said. "I definitely heard rumors of teams saying I'd never be the same or be able to play, so they weren't interested. That gave me more motivation to work harder and do my rehab to get stronger and back on the field."
Youth World Cups
Turning out for an amateur side after accomplishing so much at an early age would have left anyone re-evaluating their journey.
Szetela was a vital member of the U.S. squad that competed at the 2007 FIFA U-20 World Cup in Canada. He had competed at the U-17 World Cup four years before and had offers to play in Europe, but decided to stay home after his father died.
On the 2007 squad that included Freddy Adu, Michael Bradley, and Jozy Altidore, among others, Szetela had several notable performances in Canada.
Szetela scored the tournament's opening goal for the U.S. in a 1-1 draw with South Korea. He then scored twice in a 6-1 mauling of Poland. It was an especially emotional match for Szetela, whose family is originally from Poland, after national team coach Pawel Janas said, "we have 200 players like Szetela."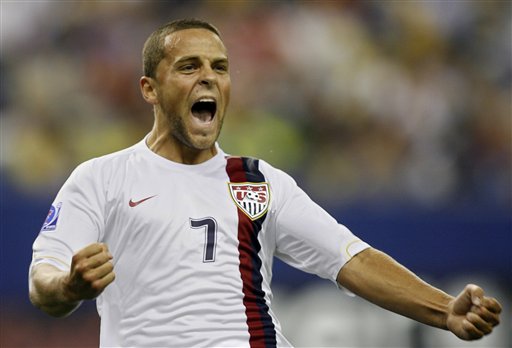 Thomas Rongen, who coached the U-20 team during Szetela's spell, said: "The Poland game was pretty special for him and it's nice to get some goals in the World Cup. It showed his versatility."
Szetela's former youth coach had nothing but praise for the midfielder during his time with the national side.
"I coached four U-20 groups, three to the World Cups," Rongen said. "I've seen a lot of very talented box-to-box players, the No. 8, which I think is Danny's best position. He was, to me, one of the better players in that position.
"He was somebody I thought could make the leap to the next level. He had a lot of good habits – trained hard, played hard. He was mentally tough, had a good skillset, and tactically very astute. He was one of the more astute players that I worked with at 17, 18, 19 years old."
The U.S. topped its group after defeating Brazil, 2-1, a team that included the future AC Milan forward Alexandre Pato. In the Round of 16, the U.S. knocked off Uruguay, in extra time, by the same score. The Uruguayans had a front line of Luis Suárez and Edinson Cavani, who now play for Barcelona and Paris St. Germain.
"Within his position I thought he was one of the better players in the tournament," Rongen said. "Now we're talking about Argentina, Brazil, and Uruguay, who we beat with Edinson Cavani and Luis Suárez. Lucas is a great comparison who played for Brazil."
He added: "In this particular tournament I thought Danny was as good or better than those guys. When you look at the five or six top players, Danny was clearly up there including guys from our team."
The U.S. was defeated in the quarterfinals by Austria, in extra time, by that familiar 2-1 score line.
"I always thought he would go places after that tournament," Rongen said.
Renewal With The Cosmos
Back in a professional environment, the New York Cosmos didn't know what to expect from Szetela. The club ended up getting more than it asked for in the 2013 Fall Season of the fledgling NASL – and beyond.
"Honestly, we signed him with the hope that he was going to grow," Cosmos head coach Giovanni Savarese said. "We remembered him when he played as a professional free of the injury he had. We knew of the player that he was. We didn't sign him on the potential that he'd get there, but we signed him with the willingness to give him an opportunity to be a professional player and to be again in this environment. We believed in him and we're very content on the point he's gotten to."
Szetela made his debut with the Cosmos, coming off the bench in the second match of their campaign, playing 22 minutes in a scoreless draw with the Tampa Bay Rowdies. The next match, however, changed the direction of Szetela's season. The Cosmos and the Carolina RailHawks played a wild match at WakeMed Soccer Park in Cary, NC, which saw the Cosmos have two players ejected, the RailHawks one, and Carolina winning, 3-0.
Szetela started the next match and never relinquished his role as a stalwart in the Cosmos' starting XI.
"Even the first year he surprised us because we didn't expect him to play so quickly as a starter, but he was able to win a starting position early in the season," Savarese said. "It was unexpected but well deserved for the effort that he put in from the beginning."
Szetela rewarded the Cosmos' faith. There were plenty of little victories for Szetela, like scoring his first goal in almost five years, incidentally against the RailHawks.
"The goal meant a lot," Szetela said. "It helped boost my confidence throughout the season to know that I was getting back to a place where I used to be."
The Senna Effect
No one person had a greater effect on Szetela's return to the field than Marcos Senna. The veteran Spanish midfielder who dealt with injury issues during his vaunted career, helped lift the Clifton, NJ, native's level.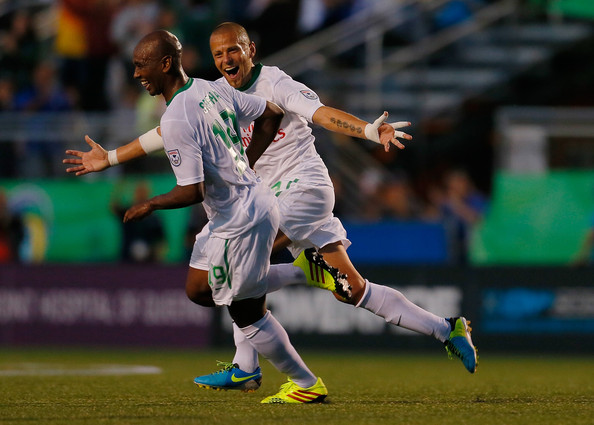 "Playing with Marcos for three years, especially that first season gave me the confidence I needed," Szetela said. "Coming back from injuries I played with amateur teams – Garden State Soccer League – in New Jersey. There's good players, but nothing like the professional level. There's some ex-pros in the league."
"I had to raise my level to make sure he's happy when I'm playing alongside him. He definitely raised my level and I thank him for the player I am today."
The relationship, though, was symbiotic.
"Danny has helped me a ton," Senna said. "The results are obvious. We were able to win the championship. Danny has great awareness on the field – he's a vital presence."
Savarese added: "Playing alongside Marcos was a very positive thing for Szetela because it allowed him to grow as a player. Given the chance to be able to play with one of the top players in the world was a very good experience for him. We can't forget the contribution of what he did for Marcos as well. It was a good understanding between the two of them, and it worked out well the past three seasons."
It was only fitting that Szetela and Senna would patrol the Cosmos' midfield for one last match together – The Championship Final against Ottawa in November – before Senna hung up his cleats.
"It happened to be that way," Savarese said. "They had a good week of practice, so it was very important that they were the two players in the final match."
Waiting For A Call From Klinsmann
Even after winning two titles in three years with New York, there is still one more mountain to climb: a shot with the U.S. men's senior national team. Szetela had earned three caps before injuries interceded.
The notion of Szetela rejoining the national team is one that the Five Points, the Cosmos supporters' groups, championed since he joined the club, and those same supporters have certainly helped his and the team's confidence.
"It's always important, if you look at any team in the world," Szetela said. "We're so successful at home because the Five Points are great, every weekend at home. They try to make it out to some away games, but it's tough sometimes because of the travel. It's great having them behind us because it gives us that extra boost of energy – they are like the 12th player on the field. We don't want to disappoint them and whenever they are behind us we just give it our all."
Szetela, however, needed to prove that he was still the player that was so promising as a 17-year-old. After three years with the Cosmos, healthy and successful, Szetela waits for that chance to wear the red, white, and blue again.
"I haven't heard anything yet, but you never know," he said. [U.S. head coach Jurgen] Klinsmann always calls in players to give them a look. That's what I'm waiting for and hopefully it comes."
When asked what he could add to the national team, Szetela said: "My fight, my creativity. I love the game. Soccer is all I know. Growing up, all I did was play soccer. I wasn't the best in school, didn't care that much about school, but soccer is all that I did. I can bring a different style of soccer to the national team."
Savarese noted: "He's very confident now. He's a true professional. He's a hard-working, two-way player. He's somebody that can contribute offensively as well as defensively. It'd be a really good thing for him if he could go back. And playing in the national team could do well to add to his confidence."
Rongen believes a return to the national side is warranted because Szetela is "one of the better players in the NASL, in my opinion."
He continued: "You see some NASL players get a chance with the national team – [Miguel] Ibarra being one of them. With all the intangibles, and still at a very young age, I don't think he's reached his full potential."
If the call never comes, though, Szetela said he has no regrets.
"If I don't [get back to the national team] then I won't be angry or disappointed," he said. "That's one of my goals and you have to dream big, so that's my dream to get back to the national team."
'A Key To This Team'
The coming season will be another step in Szetela's career. With Senna and Raúl retiring, Szetela, 28, is expected to help fill the leadership void.
"I think he is going to be a key to this team going forward when I'm not here," Senna said. "I think he's going to be the guy to guide the younger players."
Szetela has set the target of adding more goals and adding more trophies in 2016.
"Next season is going to be more difficult," he said. "Every year is the same. You want to win the championship – starting with the Spring and Fall Season.
"Personally I want to win the title, but do more for the team. This year I didn't score many goals, but next year I want to get forward more and score some goals."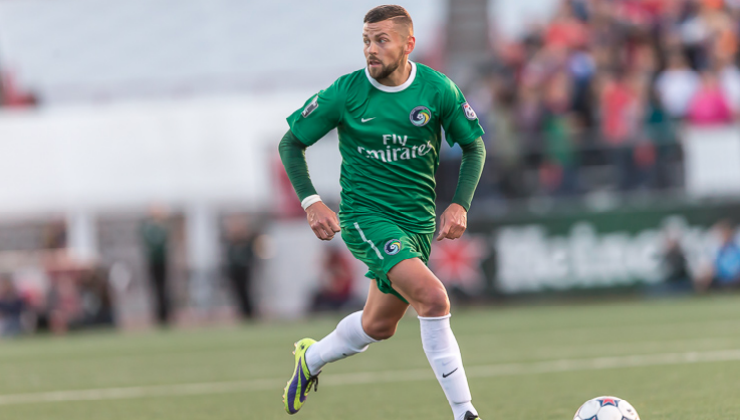 Whether a return to the national team or more championships are in Szetela's future, one thing can never be questioned: His fighting spirit.
"That tells you what Danny Szetela is made of," Rongen said. "He went through some adversity. He fought back and as I said he's mentally tough.
"When most players continue in a downward spiral, he's pulled himself out."