Atlanta could dent Ottawa's bid for the top seed in the postseason with a strong performance on Saturday
As the NASL's 2015 regular season wound down, Indy Eleven established its position as the league's marquee spoiler.
Eliminated from contention for a berth in The Championship, the league's four-team postseason tournament, weeks ago, all Indy did was cobble together victories over a pair of contending teams who visited Carroll Stadium in Indianapolis. First there was a 3-1 win against Minnesota United that handed the Fall Season title to Ottawa Fury FC. Then came last weekend's equally incongruous victory over Fort Lauderdale, 2-1, that greatly imperils the Strikers' hope of nailing down the No. 4 postseason seed.
Indy has done its part, depending on your point of view.
Next up: the Atlanta Silverbacks.
Atlanta, which only last week still harbored (long-shot) hopes of squeezing into the postseason, finds itself in the unique position of potentially having an impact on the postseason without being in the postseason.
The Silverbacks host Ottawa in a late afternoon match on Saturday.
Asked if the club planned to give Fury FC, the Fall Season Champions, a game, Silverbacks defender Simon Mensing said, "To be honest, we'd be doing that anyway."
With kickoff scheduled for 4 p.m. (Eastern) at Silverbacks Park, an Ottawa victory would clinch first place in the Combined Standings and give Fury FC home-field advantage throughout The Championship. A draw or Ottawa loss would open the door for New York to still contend for the No. 1 seed. If the teams finish the regular season tied on points, goal differential would determine who finished first. Before this weekend's games, Fury FC holds the advantage (plus-19 to plus-17).
An Ottawa win would push the Cosmos (9W-6D-4L, 33 points Fall; 14-11-4, 53 Combined) into the No. 2 seed ahead of its match against Tampa Bay (5-5-9, 20 Fall; 10-9-10, 39 Combined). The Cosmos, who will host a semifinal match after winning the Spring Season title, enter the game on a three-game winning streak and four-game unbeaten run in which they have outscored the opposition, 9-2, scoring three goals in two of the four games. Conversely, a win for the Rowdies would, regardless of the Atlanta-Ottawa result, give Tampa Bay the No. 4 seed in The Championship regardless of the result of Sunday's match between Jacksonville and fifth-place Fort Lauderdale (7-6-7, 27 Fall; 10-8-11, 38 Combined)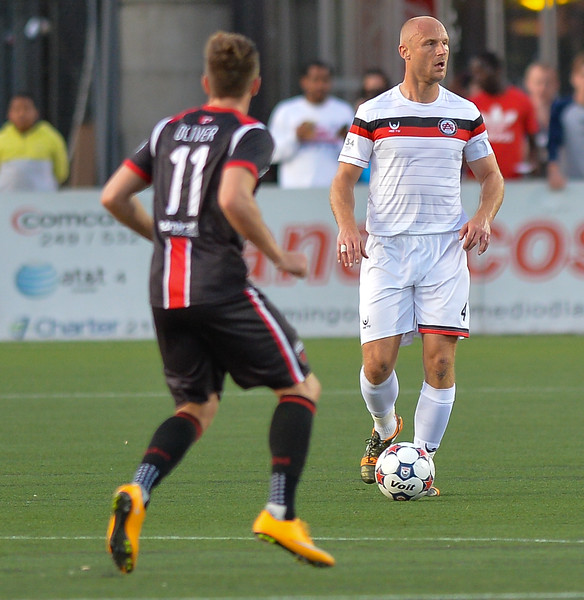 In Week 18, Ottawa (13-5-1, 44 Fall; 15-10-4, 55 Combined) faces an Atlanta team that has been eliminated and is on a five-game run without a win. By contrast, Fury FC is unbeaten on the road in the Fall Season (7-2-0) and owns a league-record 11-game road unbeaten streak. If that is not enough, Ottawa has lost only once in its past 24 games spanning the Spring and Fall Season.
"We've been disappointed with the results, they haven't been what we want the last month or so," Mensing said. "To be fair we let games get away from us."
The Silverbacks (6-6-6, 24 Fall, 7-11-10, 32 Combined) saw their slim chances of reaching the postseason evaporate last week in a difficult 1-0 loss at Minnesota, a game that virtually began and ended when Christian Ramirez converted a penalty kick after only nine minutes of play. Even before the final whistle in Blaine, Minn., the Silverbacks' fate was sealed when the Rowdies earlier blanked Carolina.
"It was a rough decision against us on Saturday," Mensing said. "Now we're playing the last game of the season, and we want to finish on a high note. We're going to give it our all. To be fair to Ottawa, they've had a really good Fall Season, and they deserve to be up there. I'm sure they won't look at this as easy."
In the two previous matches between the clubs this year, Atlanta has tied one (1-1) and lost one (2-1).
"The last time they played us they gave us a right whomping," Mensing said. "They're very well organized and I think they are sneaky good on offense. In the last game I felt we had a lot of the ball, but they stuck to their game plan and broke us down. They managed to score and punished us. The have some great individuals and concede very few goals."