Haji Wright's growth with the New York Cosmos sets the stage for explosive youth development in the NASL
Photo Credit: U.S. Soccer
Growth is a key word when describing Haji Wright's season with the New York Cosmos. There has never been a doubt about the precocious forward's ability, but his time spent between Cosmos B and the first team, working alongside veterans such as Raúl and Marcos Senna, has added a bit of polish to the U.S. youth international's game.
"Everybody can notice that he's grown so much from the time he came in to now – his personality, he's more comfortable to step in and play," Cosmos Coach Giovanni Savarese said. "He's been able to use his talent in a much better way, and he was crucial in providing the assist [against the Carolina RailHawks]. He came into the game very confident.
Wright said, "You can see in my playing, starting with Cosmos B, getting some time with the first team, and my first start and assist, I definitely feel I've grown as player."
The NASL, too, has experienced impressive growth as the fifth season nears its climax – The Championship, the league's four-team postseason tournament. Along with a vibrant league, more players are being given the opportunity to gain valuable experience at a younger age.
The FC Edmonton Academy has provided a seemingly endless supply of talent to the first team, which could ultimately serve the Canadian men's national team program for years to come. Hanson Boakai, Mallan Roberts, Sadi Jalali, and Allan Zebie have made the jump, while Boakai and Roberts have both spent time with the senior national side.
The Cosmos, in their search for players to build a formidable and sustainable team in the NASL, look everywhere for talent. While keeping a watchful eye on Wright as well as his U.S. U-17 teammate and recent Cosmos signing Alexis Velela at the FIFA U-17 World Cup, where the pair is expected to feature, it will be a chance to look at more young talent that can potentially join the club.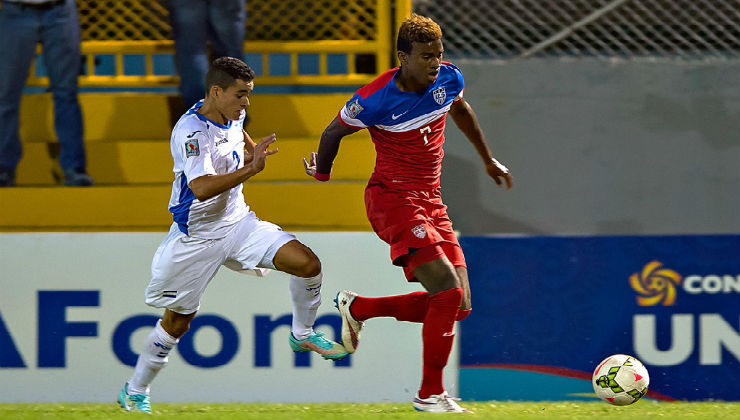 The tournament will be played in Chile from Oct. 17 to Nov. 8. The U.S. is in a difficult first-round group with the host nation, Croatia and Nigeria.
"We watch even in the Sunday league in Manhattan – we watch everything," Savarese said, "because we can find players from everywhere, and we're always looking around, scouting."
Soon though, it could be a league-wide norm to see youth internationals growing in a professional environment as the culture of soccer shifts in the United States. For the U.S., five youth national teamers in the pool for the U-17 World Cup are professionals including Wright and Velela, although the latter is still training with the U-17s and not yet with the Cosmos.
"NASL teams like the Cosmos and FC Edmonton have created a better pathway for young players to develop, get exposure to great coaching and mentors, and to realize their professional value in the global player market," NASL Commissioner Bill Peterson said. "I think you'll continue to see more teams increasing their efforts toward player development, which will continue to contribute to the entire player pool and national team aspirations in the U.S. and Canada. All NASL teams are committed to player development and many more examples will surface over the next few years."
Teams like Cosmos B or the reserve teams for the Atlanta Silverbacks, the Carolina RailHawks, and Minnesota United, which play in the National Premier Soccer League (NPSL) can be important in bridging the gap as a youth player transitions to the professional game.
U.S. U-17 Coach Richie Williams noted how playing for Cosmos B has helped Wright.
"It's helped him toughen up, per se, and has helped him be more aggressive to just be able to see what it's been like to compete with professionals day in and day out," Williams said. "You can definitely see that side of him improve. He's gifted technically, he has scored a lot of goals for us and he does well in the attacking half of the field. There are little parts of his game that need to be developed more, and I think training with the Cosmos has helped him develop those traits."
Playing alongside Raúl has helped Wright continue to progress, "a lot of mental things I've taken away – just their mentality and the way they approach things as a professional," Wright said.
Williams said of learning from the former Spanish national team and Real Madrid star: "It's a great experience to train with them and play matches with them – just to be around them – like Raúl's career, with an incredible career, and how successful he was as a forward and scoring goals as a forward with Real Madrid and Spain. You would hope, in little ways, that would rub off on these players and in turn that will help these players develop when speaking to them and showing them what it takes to be a professional. In that case, it's very valuable."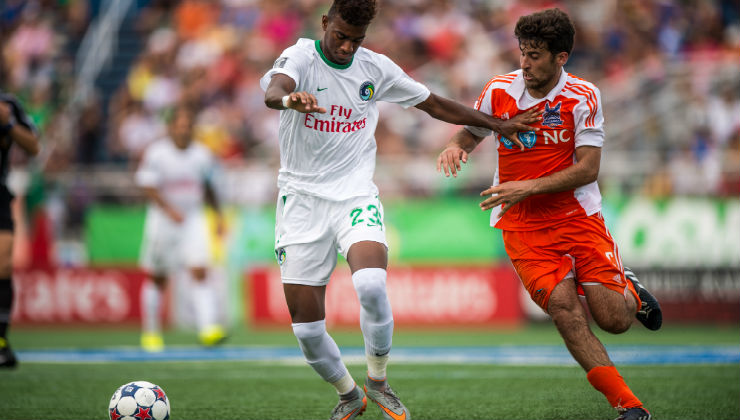 The culmination of hard work manifested itself as Wright recently tallied an assist on Lucky Mkosana's game-winning goal in a 3-2 win over the Carolina RailHawks.
Wright said of the play: "It feels good to help the team earn a W, and give Lucky the assist – he's a good friend of mine – so I like helping out and the team and him. I was watching Lucky the whole time as the ball was coming in, so I saw Lucky and gave it to him because my back was to goal."
While Wright, 17, is still hoping to score his first goal for the Cosmos as the club prepares for the postseason, the path Wright has chosen to feature in the NASL and his success so far could see more U.S. youth internationals follow his path. He certainly thinks so.
"I think more young players will come to the NASL," Wright said. "It has its positives, and I think players will want to come here to keep growing."
Williams was asked if he sees the NASL as a good landing place for players he coaches at the national team level?
"Yeah for sure," he said. "Alexis, who is also signed with the Cosmos, and I think it just gives them the opportunity. In terms of the Cosmos, they have a second team, Cosmos B, which is very important. It's very important for the players not only to train with professionals, but making sure you're getting a match every week. Sometimes it's hard for a 17-year-old to participate in the first-team games, but as long as they have a second-team game that week, they get some games."
And for the Cosmos, and the rest of the league, they will be happy to add a few more players like Wright.
"I think it's important," Savarese said. "We believe in youth, we believe in improving the talent in the United States, and I think under our current environment and setup we can provide something very good."