They were the oddest of odd couples.
A short defender from Iran and a tall goalkeeper from Germany – Andranik Eskandarian and Hubert Birkenmeier.
Two soccer players whose names became conflated as Eskenmeier during the Golden Era of the North American Soccer League and the New York Cosmos in the late 1970s and early 80s.
A guy from the Black Forest of Germany meets a guy from the bazaar of Tehran. Is it possible? You bet.
First, a bit of background.
Eskandarian was the only non-Muslim (he is of Armenian descent) to be part of the team Iran sent to the 1978 World Cup in Argentina. After the tournament, the Cosmos hosted, a World All-Star game at Giants Stadium in East Rutherford, N.J., and Eski was one of the players invited.
After that match the Cosmos asked him to stick around for a friendly against Argentina's Boca Juniors. He returned home to Iran afterward, but soon had a contract offer from the Cosmos that he accepted.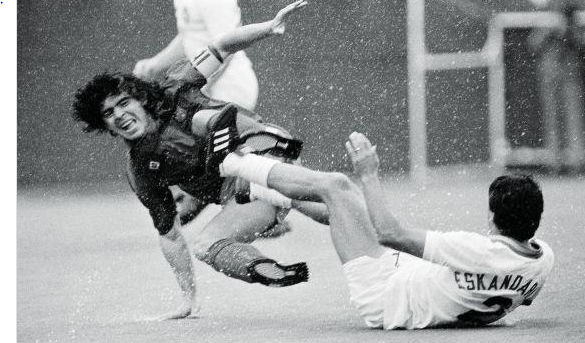 Before the start of the 1979 NASL season, the Cosmos, as they did every preseason and postseason, embarked on a tour. This time they headed to Europe and played a game against a lower-division team in Freiberg, Germany. At the time Birkenmeier was Freiberg's goalkeeper, turning in a performance good enough to draw raves from the Cosmos' Franz Beckenbauer.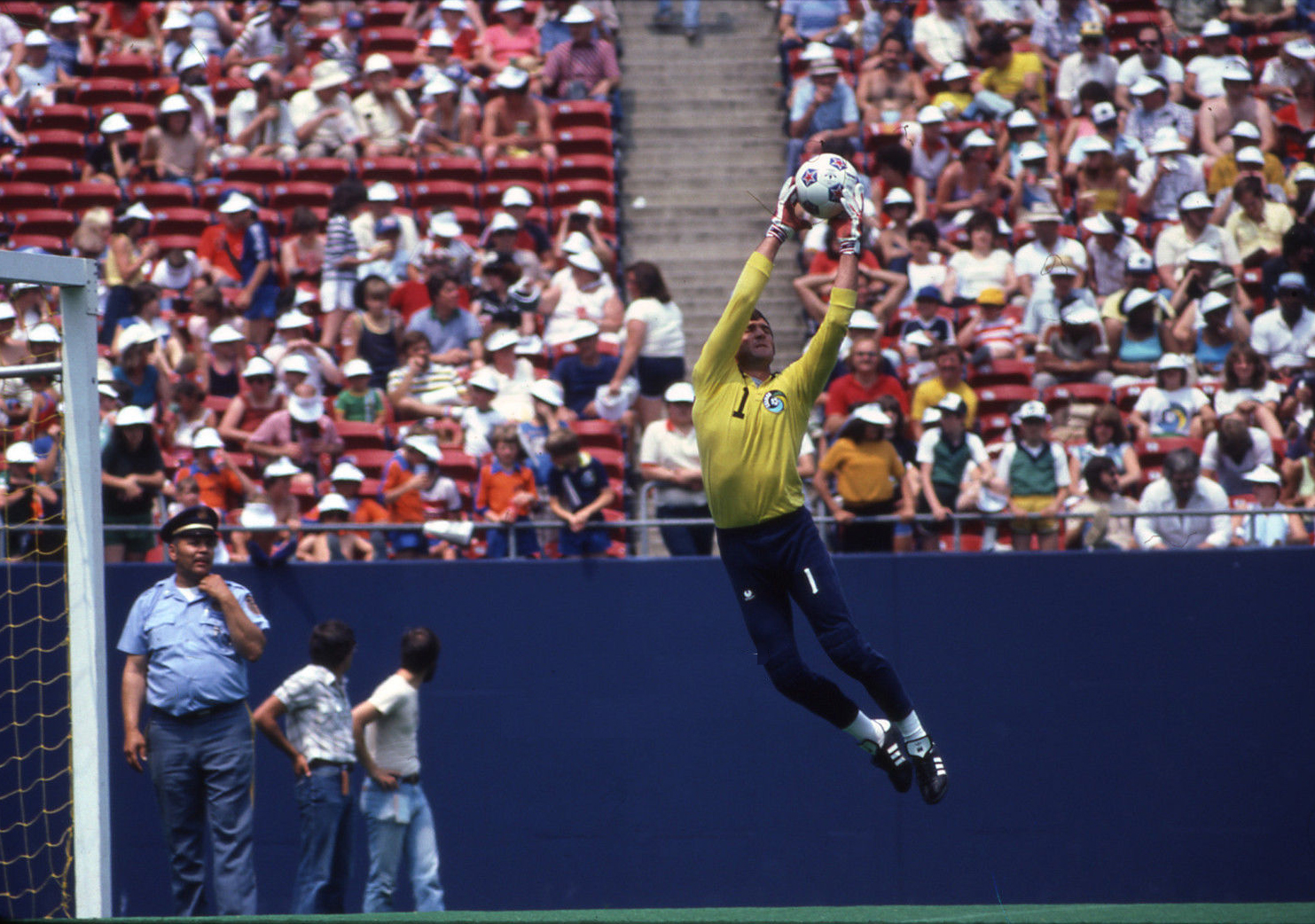 "Franz said he was a great goalkeeper," Eskandarian told NASL.com this week at one of his sports shops (he now owns three) in Northern New Jersey. "He had a great game, so we signed him in the middle of the season. That wasn't such a good year for us under Eddie Firmani. We had Jack Brand and Erol Yasin in goal and they were getting older. Hubert fit right in."
In more ways than one.
As two of the newer, lesser-profile players not entitled to a private room on the road, Eski and Birkenmeier became roommates first, then good friends, bosom buddies. Neither spoke English with any great proficiency, but they spoke the language of soccer and hijinks. They became inseparable.
"We started by going to lunch and dinner," Eski said. "Sometimes there is just this connection between two players, a real friendship. It was a simple friendship that lasted for seven years on the Cosmos."
It was rare to not see the two players together, whether the club was in Tulsa, Okla.; Vancouver; Brussels, Beijing, or Buenos Aires. Perhaps it was fitting that two guys who played defense should develop such a close friendship and understanding on and off the field.
"We had fun, tell everyone," Eski said. "You can go from the biggest player we had to the smallest, we had a great team, a great group. We respected each other. There was no one I didn't like. You cannot find in these days a team that traveled to so many places with that many stars from so many different countries and got along and were friends. It was amazing. And it couldn't happen today."
During one of the Cosmos tours -- this one to South America, with stops in multiple countries over 45 days -- Eski and Birkenmeier conspired to play a long-running practical joke on one of the team's stars, Giorgio Chinaglia.
"We came up with idea to make fun of Giorgio," Eskandarian said. "Wherever we went, we would find out what room he was in and we would leave a note on the door that said 'Judy loves you.' Giorgio would sit with us at breakfast and lunch and say: 'Do you believe this, how famous I am. Everywhere I go there's a message for me from a woman. They follow me.' We loved it and would have a great laugh when he left the table. After a few days he gets nastier and demands to know how this person knows where he is and what room he's in.
"We did this in every hotel, Argentina, Bolivia, Peru. We came home and after a home game, Hubert let it slip, saying something to Giorgio that Judy was going to call him. That was it. Giorgio was so mad at us. He took all my clothes in my locker and threw them in the showers. It was fun."
In 1982, Birkenmeier, who had been a soccer retailer on the side in Germany, decided to open a soccer shop in downtrodden, downtown Hackensack. Of course he called it Birkenmeier Sport Shop, the name it still carries today even though Eskandarian has been the sole legal owner for more than 30 years.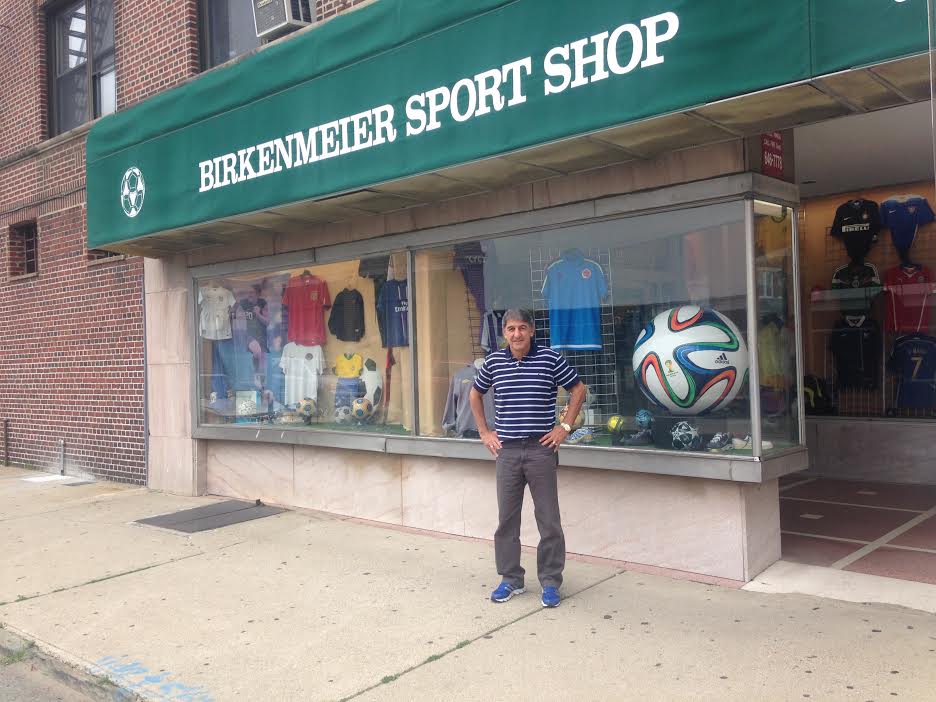 As the NASL was winding down, Birkenmeier's contract was sold to the Chicago Sting for the 1984 indoor season. With no family in New Jersey, the goalkeeper moved to the Midwest. But what to do with the store?
Eskandarian, 63, began to put down roots in New Jersey, moving from an apartment, to a house in Washington Township, to another home in Montvale. He and his wife Ana raised two boys, Ara and Alecko (now an assistant coach with the rebooted New York Cosmos).
"I asked Hubert what he was going to do with the store," Eskandarian said. "He said he would either sell it or close it. I told him I wanted to buy it and asked him how much. He said whatever is in the store, basically the inventory. So I bought it."
In those days, after the NASL folded after the 1984 outdoor season, there was not much soccer going on. There were even fewer places that the limited number of soccer players could find suitable gear. What the shop in Hackensack had was soccer-only inventory overseen by former professional players from the Cosmos, who played nearby in the Meadowlands.
After his professional career, Birkenmeier returned to New Jersey and went to work for Eskandarian on salary. Soccer's odd couple always seemed to be in the store, kibbitzing with customers, watching games on TV and watching soccer players grow into soccer parents over more than 30 years. Birkenmeier, 66, moved back to Germany for a few years, came back to the U.S. for a few years, but now has returned to Germany, this time for good, Eskandarian said.
"He was a great friend, trustworthy," Eskandarian said. "We had almost 32 years together, more than some marriages. We are honest with the customers, and most come back. I have one for 30 years. He was a player now a father with kids. Respect we have, you cannot buy that."
Now flying solo in the store, Eskandarian is surrounded by racks bulging with soccer gear and a front-window display that includes precious items from those heady days with the Cosmos -- reminders that the life of a professional athlete is like catching lightning in a bottle.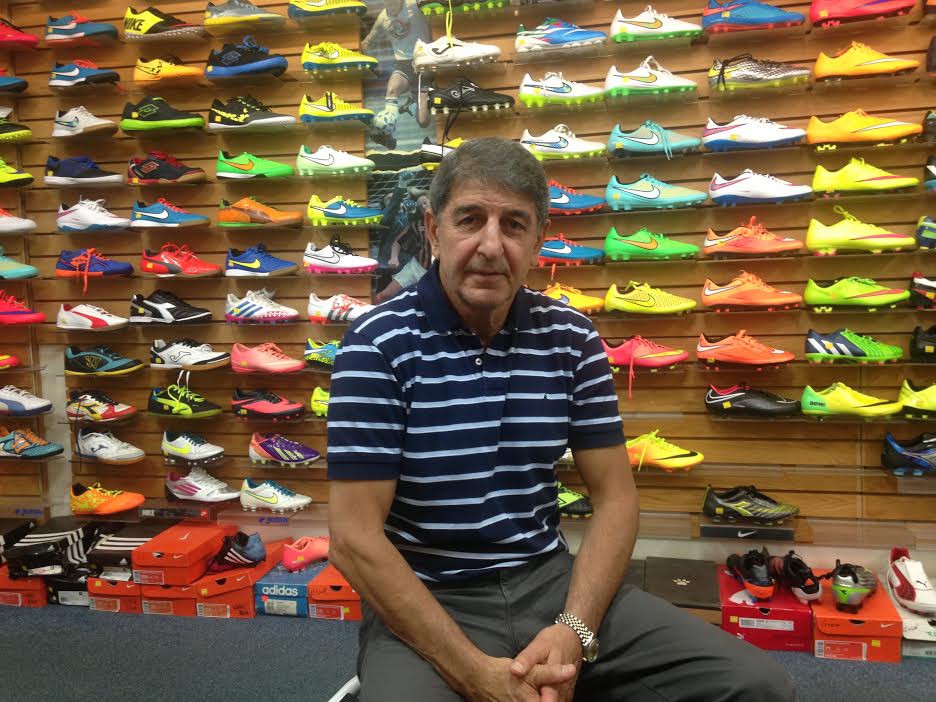 "I knew always my soccer was not going to last long," Eski said. "What a lot of young players don't realize is that it's a mistake to think that no matter how much money you make, it's going to last forever. I can go fast. I knew I had to make some investment, not to sit home for the rest of my life, but to work. I was young and was planning for my future. I knew had to start some business. My advice for players is to always think for future before soccer is finished. I never wanted to be in coaching because the life is six months here, six months there. I didn't like that life."
But he likes his life now. Just ask Eskandarian. You can find him six days a week at the soccer shop in Hackensack. Don't feel obligated to buy anything. The company and the conversation are great. Now, perhaps the only thing missing is the silver-hair Birkenmeier sitting in his car telling jokes with his devilish grin and light lisp.
Personally, I'll never forget them, especially because I could always count on Birkenmeier to greet me with a hearty "Chek (for Jack!) the Rabbit," or get a big-grinned greeting from Eski.
An odd, endearing couple indeed.