Joining Atlanta ahead of the 2015 Spring Season, Simon Mensing is enjoying life in the city as well as his time captaining the Silverbacks
Photo Credit: Rich von Biberstein
Atlanta Silverbacks defender Simon Mensing has been quick to make an impression on his newest fans, making him a hero in the heart of the Silverbacks defense.
Silverbacks' supporters have always viewed their team's defensive units as underrated pieces within the North American Soccer League. Year after year, the Atlanta defense churns out fan favorites and young stars.
Mark Bloom and Chris Klute, now with Toronto FC and Columbus Crew SC, respectively, have graced Silverbacks Park. Klute was even speculated to get a USMNT call-up at one point. There was also former team captain Martyn Lancaster, and last year, there was Borfor Carr.
Mensing is quickly heading in the direction that leads to the Land of Lauded Defenders. The present captain of the Silverbacks has been an immovable object, leading his back line as if he were carrying them into war. Within minutes of the opening whistle, Mensing is screaming, never content until a shutout is secured.
As quickly as Atlanta is warming to him, as is he to the city. He's happy to finally play the game he loves in a country that has always been on his mind.
"It's something I've wanted to do for a while and to finally get the opportunity and doing what I love is excellent," he said. "I'm enjoying the people and enjoying the city."
As an Englishman, Georgia's weather has to be a shock. Instead of gray skies and constant rain as in England, the southeast of the United States is a hot, humid pressure cooker unlike anywhere else in the country. It weighs the body down, making things like long-distance running, like in a game of soccer for example, an absolute suffering.
"To be honest, when I first turned up, it was more like back home," Mensing said about the mid-February weather. "So, it wasn't too bad then. I'd say the last two weeks have gotten very hot, very quickly. So I'm adjusting to it as best as I can. I'm sure it's going to get a little bit hotter as well."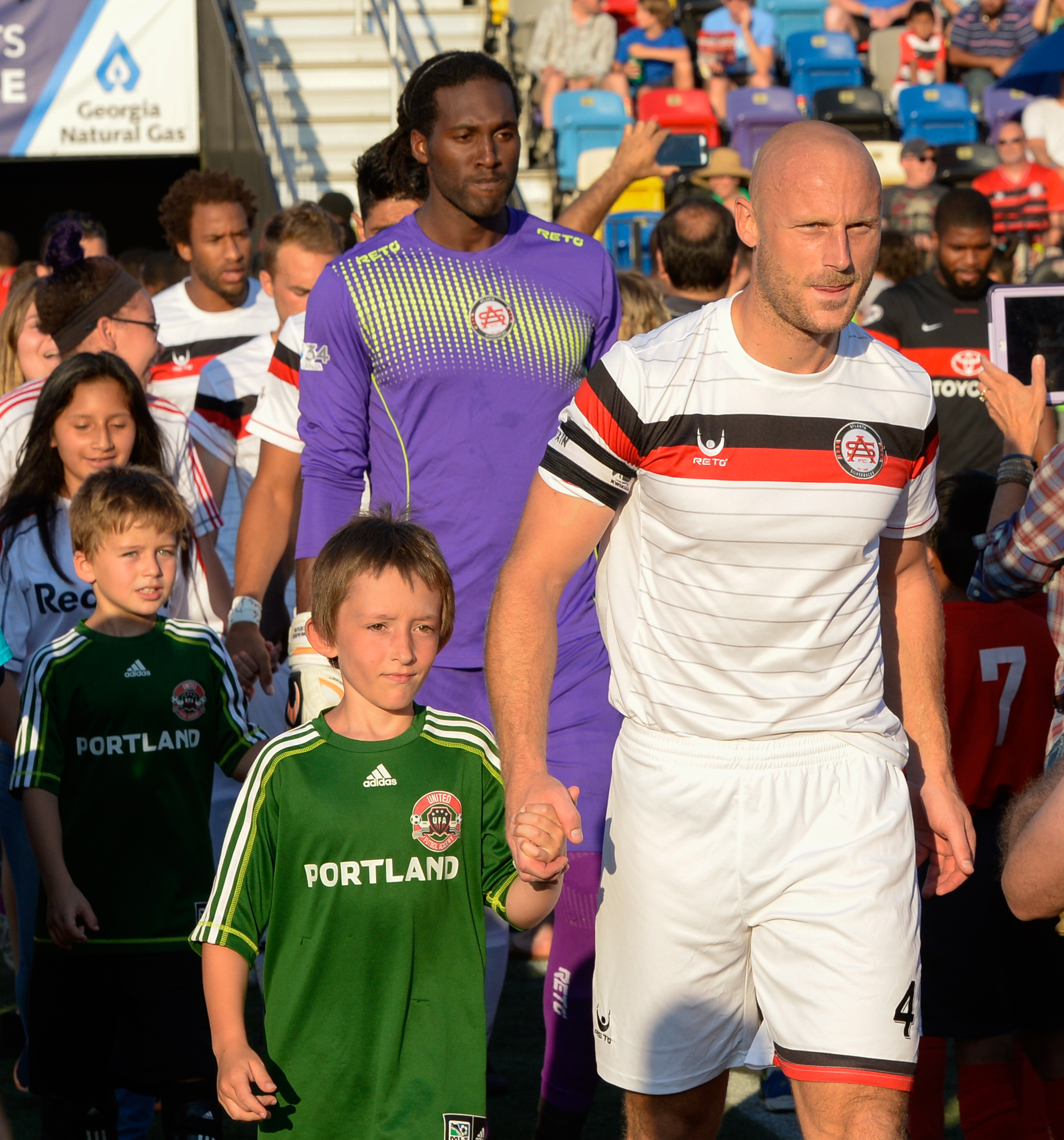 Mensing's path to Atlanta was happily traveled because another Englishman who Mensing has known since he first played for Wimbledon Football Club, made the journey as well – head coach Gary Smith.
"I've known Gary since I was a young lad at Wimbledon," Mensing said. "He was coaching the youths down there as well. That was where we met originally. I came across Gary a few years later. I was trying to maybe get something down south. He was at Stevenage at the time. Unfortunately, that didn't materialize. That was only a few years ago.
"And again, recently. I was very good pals with the gaffer. When the gaffer got the job [in Atlanta], I mentioned myself and, obviously, he was keen on that. I'm delighted to get the opportunity."
Considering Mensing has tried before to play under Smith's tutelage, there has to be a reason. Following a man across an ocean is not something to be taken lightly. There had to be an absolute belief that Smith was putting together an operation that would work. For Mensing, that idea wasn't even a question. That belief has trickled down to every player on the Atlanta roster.
"Obviously, I'm very impressed with the gaffer," Mensing said. "I think you can't help but not be. Everyone's on board – not just what he's asking for, but the way he structures things for the players in fine details. When he's asking us 'What are you doing?' he doesn't complicate it. He's straightforward and his communication out to the players is second to none. So I'm really enjoying my time at the moment – the city, playing for the gaffer, and, obviously, the boys."
Clearly, Smith is doing something right. He's helped form one of the best defenses in the NASL of which Mensing is the captain. Mensing believes that not much separates the team's current standing to one that would've been even higher.
"As a team, I think it's been encouraging at times," Mensing said. "The games that we have lost, we were very disappointed to lose. There are a couple of draws where we thought, 'Yeah, we'll take that,' like against the Cosmos and Fort Lauderdale. But, the other ones, I think we could've turned into wins and we're quite frustrated we didn't get the win. But that's part of football."
The Atlanta captain doesn't see the amount of draws as a negative for the team. Instead, he chalks it up to chemistry. Soccer is truly a team sport. It takes time for a team to gel. Mensing thinks that, with more games, the team will continue to improve.
"It's a new group of lads that have come together so, considering, I think we're doing pretty well," Mensing said. "As the weeks go on, we're learning more about ourselves as a team. I'm sure it's going to get better."
Mensing's thoughts are much more to the point when assessing his own performance over the course of the Spring Season.
"Personally, I think all right. We had a couple shutouts which, as a defender, you pride yourself on," Mensing said. "Obviously, you're never 100 percent satisfied."
Mensing has become something of a cult hero for his physically imposing style of play. There may not be a single forward, among the teams Atlanta has played, that Mensing has yet force to the ground. That isn't to say that Atlanta defenders play dirty. In fact, the team has the fewest yellow cards in the NASL with eight.
Coming from England, Mensing has spent the majority of his career in what most Americans would deem the greatest soccer nation in the world. From Mensing's perspective, the NASL isn't all that different from the leagues in which he's had the pleasure of playing.
"In the NASL, a lot of the boys are big, athletic, fast runners," he said. "I think that's clear to see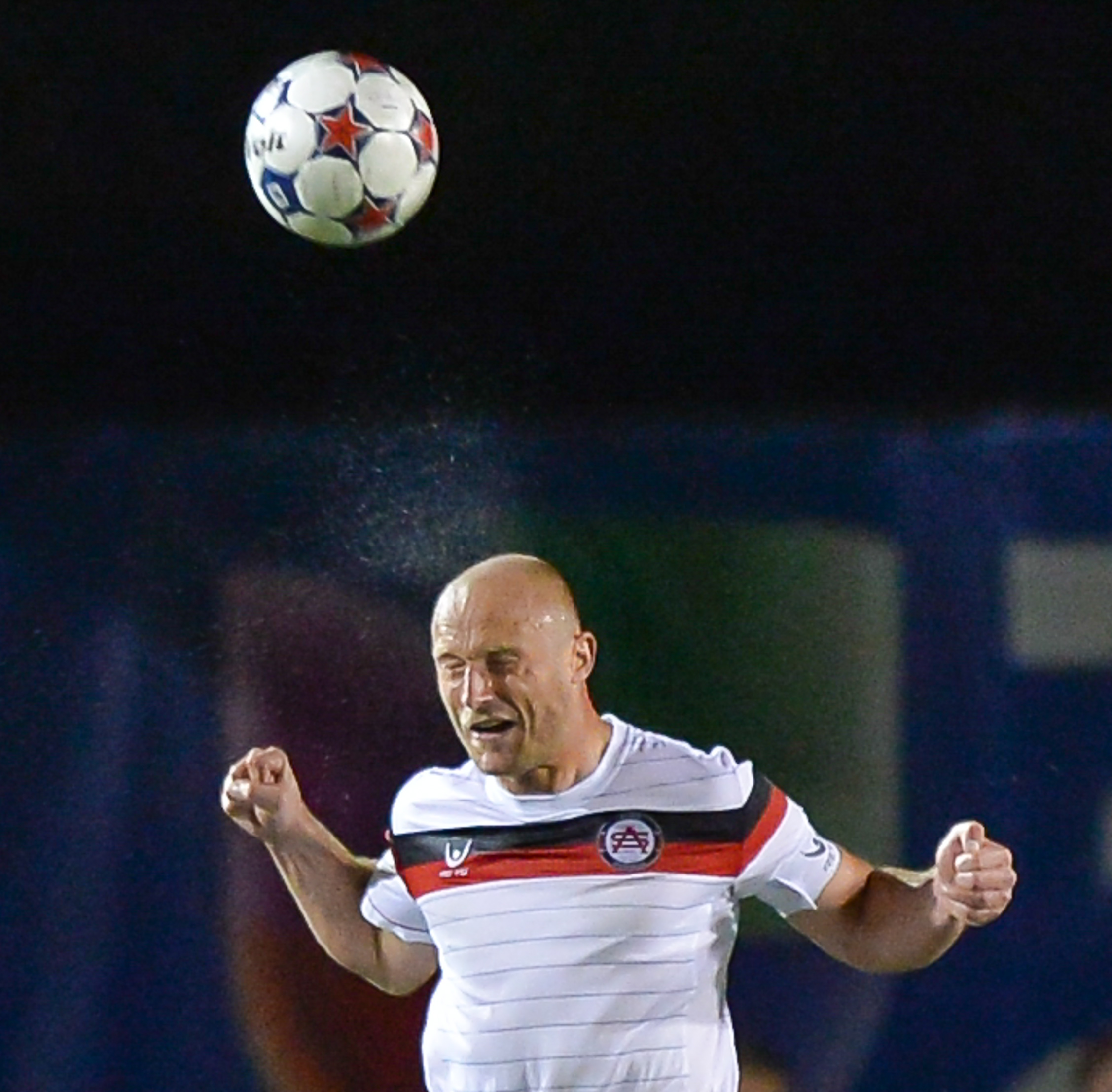 in the NASL. We've played against a few teams that are very good technically as well. So there's certainly a good mix like there is back in England and Scotland. It's very similar."
Just like in England, the team is defined by the success it finds on the field. There's a certain point that the team has to reach in order to look back on the season fondly. For Mensing and his teammates, that point comes when they reach the playoffs.
"Without putting on too much pressure, I think everyone in that dressing room wants to make the playoffs and there's nothing to suggest that we can't do that. We need to start scoring a few more goals and putting our chances away. And I'm sure that will come," he said. "We'll keep on working hard and if we see the playoffs, I'd be a happy man. And I think you'd see a happy changing room."
As the Silverbacks work hard in training, there's a name that is yelled that one won't find on the Atlanta roster page - Gunta. It's a nickname that Mensing has happily brought with him to all of the stops he's made.
"It originated from when I was a little bit younger at Wimbledon," Mensing explained. "I was a first year YTS (Youth Training School) and there was a Simon a couple years older than me. He didn't have a nickname at the time. He was Simon so they had to get one for me. My hair was a little bit longer and beach blonde. I think (the TV show) Friends was pretty big at the time. And, as you can imagine, the guy behind the bar, Gunther, was apparent there. One of the coaches came up with that and from there it stuck. The hair didn't, but the nickname did. And, it's lasted throughout my career."
Due to the fact that Mensing was actually born in Germany, Gunther transformed into Gunta. Although his look has transitioned from bleach to bald, Mensing is sure he'll never rock the Gunther look again.
"I'll stick with my shaved head," he said.
For the sake of Atlanta fans, that's probably best. With the way Mensing has played during his first season with the Silverbacks, surely they wouldn't want the Englishman to change anything.