The NASL Team of the Week is selected based on performances on Saturday evening and features the best XI players in their respective positions.
Of course the selections are open to debate and fans are encouraged to have their say through social media at www.Facebook.com/NASLfans and on Twitter @NASLofficial
Here is this week's Best XI: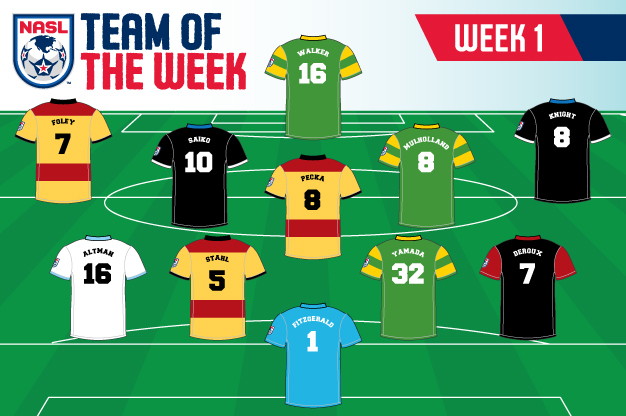 Goalkeeper:
Akria Fitzgerald, Carolina
Seven saves in 0-0 draw at Tampa Bay. Earned NASL Player of the Week for his efforts.
Defenders
Stephen DeRoux , San Antonio
Defended well for the Scorpions while linking up with midfielders regularly out of the back.
Takuya Yamada, Tampa Bay
Calmly anchored the Rowdies backline which was hardly tested by Carolina in 0-0 draw.
Toni Stahl, Fort Lauderdale
Anchored Strikers defense and helped distribution in own half during 1-1 draw with Edmonton.
Kyle Altman, Minnesota
Captained Stars in 0-0 draw vs. San Antonio.
Midfielders
Wes Knight, Edmonton
Scored the "Eddies" lone goal in 1-1 draw at Fort Lauderdale
Shaun Saiko, Edmonton
Controlled midfield for Edmonton and set up Wes Knight's goal.
Pecka, Fort Lauderdale
Helped break up Edmonton counter-attacks and create a possession oriented midfield game for Fort Lauderdale.
Luke Mulholland, Tampa Bay
Had four shots on frame during Tampa Bay's 0-0 draw with Carolina.
David Foley, Fort Lauderdale
Stimulated Fort Lauderdale's attack down the left side and scored the lone Strikers goal in 1-1 draw.
Forward
Amani Walker, Tampa Bay
Fired three shots on target in Rowdies 0-0 draw with Carolina.